7 Things Mary-Kate Olsen's Gigantic Engagement Ring Looks Like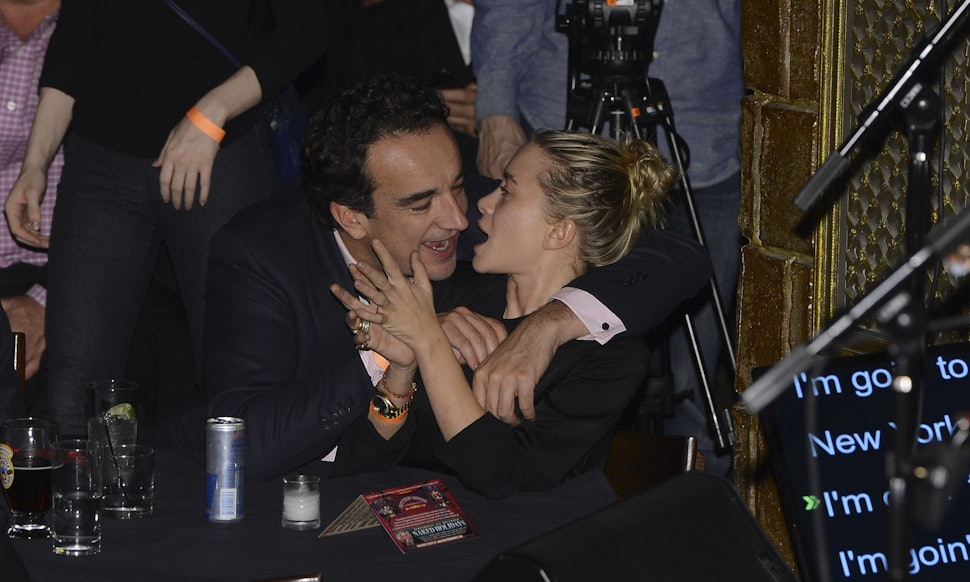 Larry Busacca/Getty Images Entertainment/Getty Images
Welp, it's really offical — Mary-Kate Olsen is engaged to French banker Olivier Sarkozy. The former child star turned fashion mogul was spotted in New York sporting a brand new piece of jewelry.The ring features a huge white diamond wrapped in gold. It's far from traditional, but hey, fashion, amiright?
Olsen and Sarkozy have been together for over two years and Sarkozy, 44, has two children from a previous marriage. The two also own a $6.25 million home in New York City, further proving that rent in New York is for child stars and French investment bankers only.
Not only does Mary-Kate's ring give Kim Kardashian's a run for its money (mind you both rings are probably worth more than most of us will see in a lifetime, so who are the winners here? NOT ME!) — it also totally looks like the following seven things.
First, the ring
I believe this is what the kids are calling, "bling." And is it just me or does the ring totally look exactly like…
Image: ErikaWinters/Twitter
The Eye of Sauron
Insert "my precious" joke here.
Image: Rebloggy
A failed pinterest cake pop
Bob Costas' Pink Eye
Love is a battlefield (of infection).
Image: Zap2it
This Holy Book
Now THAT is how to bedazzle your bible.
The baby raptor from 'Jurassic Park'
Clever girl.
Image: Jurrasic Park
The golden snitch
No muggles were harmed in the making if Mary Kate's ring.
Image: WiffleGif
This Fireball from 'The Hunger Games'
May the odds ever be in your favor, Mary Kate and Olivier.
Image:iamhardkore/Tumblr