From 'Veronica Mars' to 'Divergent,' Here Are The Only 8 Movies You Need to See This Month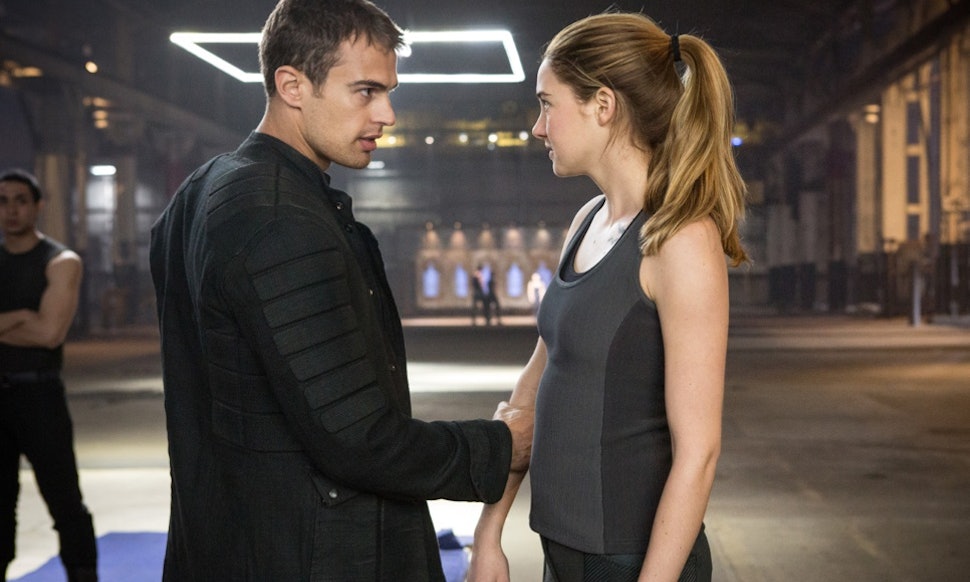 No one expects the first few months of the year to produce anything huge, but even those with the lowest expectations have to admit that where movies are concerned, 2014 has been particularly slow. Except for the rare hit like The Lego Movie or About Last Night, these last couple of months have seen more than the normal share of box office flops and critical disasters — and in the case of too many films, a healthy mix of both.
This month, though, things are going to be different. In the next few weeks, eight films are set to be released that have major potential to succeed, ranging from a beloved TV adaptation to a Wes Anderson indie. Check out the upcoming slate of films, and start planning your schedule accordingly.
Image: Summit
'Mr. Peabody & Sherman'
Release Date: Mar. 7.
About: A brilliant talking dog (Ty Burrell) and his adopted human son (Max Charles), who accidentally messes with the space- time continuum.
Why You Should See It: Based on 1960s TV characters, it's the type of animated movie that's meant for adults, too. Plus, the impressive voice cast also includes Ariel Winter, Leslie Mann, Steven Colbert, and Allison Janney.
Image: 20th Century Fox/Dreamworks
'The Grand Budapest Hotel'
Release Date: Mar. 7.
About: A concierge (Ralph Fiennes) who, with the help of his employees must prove his innocence after being framed for murder.
Why You Should See It: It's a Wes Anderson movie. For the unfamiliar, that means it's going to be witty, original, and filled with more A-list actors than Valentine's Day.
Image: Fox Searchlight
'Better Living Through Chemistry'
Release Date: Mar. 14.
About: A pharmacist (Sam Rockwell) whose affair with a customer (Olivia Wilde) leads to serious chaos, including murder.
Why You Should See It: That cast. In addition to Rockwell and Wilde, there's Michelle Monaghan, Ray Liotta, and Ben Schwartz. Sure, the film's lack of promotion is a little suspicious, but an indie dramedy starring actors that likable is not to be missed.
Image: Samuel Goldwyn
'Veronica Mars'
Release Date: Mar. 14.
About: Veronica Mars (Kristen Bell), the former high school sleuth who's forced to return to Neptune when her ex-boyfriend (Jason Dohring) is accused of murder.
Why You Should See It: It's the Veronica Mars movie! You know, the one that fans wanted for years, was funded by Kickstarter, and is reuniting all your favorite cast members? If you're a Marshmellow, this film is not to be missed.
Image: Warner Bros.
'Bad Words'
Release Date: Mar. 21.
About: A bitter, middle-aged high school dropout (Jason Bateman) who enters a kids' spelling bee in an attempt to get revenge.
Why You Should See It: It's Jason Bateman's directorial debut, and judging from the red band trailer, it's either going to be edgy and hilarious or too politically incorrect for comfort. Either way, any movie that stars Bateman alongside Allison Janney, Kathryn Hahn and Ben Falcone is worth your time.
Image: Focus Features
'Divergent'
Release Date: Mar. 21.
About: A teenage girl (Shailene Woodley) in dystopian Chicago who realizes she is "divergent," a dangerous title when all of society is split into five distinct factions.
Why You Should See It: The book it's based on is fantastic, and with Woodley as its star, it's on track to be the next Hunger Games . Of all the YA adaptations set to come out soon, Divergent is the one you can't miss.
Image: Summit
'Cesar Chavez'
Release Date: Mar. 28.
About: The life of famed labor leader Cesar Chavez (Michael Pena), focusing on his founding of the United Farm Workers and the opposition the labor union faced.
Why You Should See It: Chavez was a hugely important figure, and with the criminally underrated Pena in the lead role, the film should do his story justice.
Image: Canana Films/Participant Media
'Noah'
Release Date: Mar. 28.
About: Noah (Russell Crowe), the biblical figure who, as the story goes, builds an ark to protect his family from an impending flood.
Why You Should See It: There are a lot of biblical movies, but Noah actually looks like one worth seeing. Directed by Black Swan's Darren Aronofsky and starring Crowe, Emma Watson, Jennifer Connelly, Anthony Hopkins and Logan Lerman, the big-budget film is going to be epic — literally.
Image: Paramount
Honorable Mentions: 'Need for Speed' and 'Muppets Most Wanted'
Will they be any good? Probably not. Will we be seeing them? Without a doubt.
Image: Walt Disney