'Voyager' Book Spoilers For 'Outlander' Season 3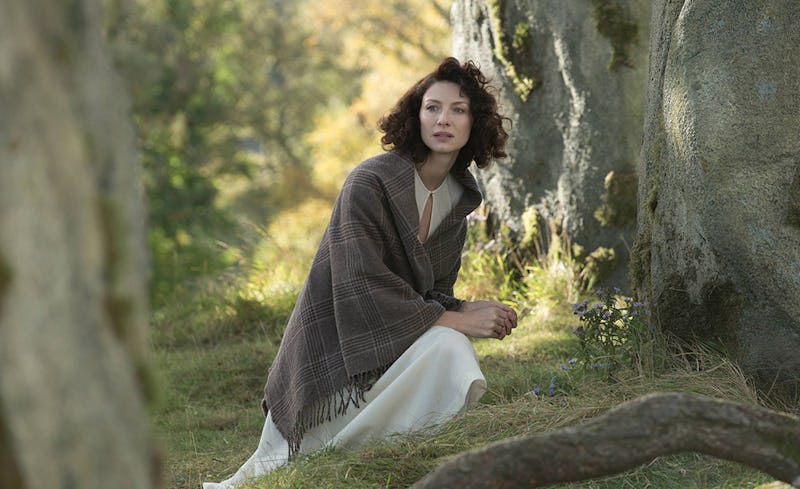 Now that Season 2 of Outlander has come to a close — and the Droughtlander has officially begun — it's time to recover from the heartbreak caused by the finale episode, "Dragonfly in Amber," and prepare ourselves for what's to come in Season 3. Now, if you've read the Outlander books by Diana Gabaldon, you probably have some idea of what to expect, but for those of you who haven't, I've got some important Outlander book spoilers from Voyager to help you prepare for Season 3. Beware there are Outlander spoilers ahead, though of course the show may choose to go in a different direction than Gabaldon's source material.
Season 2 of Outlander followed Claire and Jamie Fraser as they journeyed to France and attempted to thwart the Jacobite rebellion that led to the deaths of many Scottish Highlanders at the Battle of Culloden. Of course, as we now know, they were unsuccessful and Jamie convinced Claire to return to her home time where she raised her and Jamie's daughter Brianna with Frank Randall, while Jamie resolved himself to dying at Culloden. But, Season 2 left on the cliffhanger that Brianna and Rodger Wakefield had discovered Jamie lived through Culloden. So, where are Jamie and Claire headed next? Brace yourselves for another time-traveling adventure!
Jamie & Claire Reunite, But It's A Little Weird
Of course, it wouldn't be Outlander if Jamie and Claire just never saw each other again. So, yes, they do reunite when she travels back in time again, but it's been 20 years and not only has he fathered a son (it was sort of against his will), he also remarried — Laoghaire. You know, the girl who pined for Jamie and got Claire arrested for witchcraft like it was no big deal. I'm still not over this revelation to be honest.
Fergus Returns!
On a happier note, Claire reunites with Fergus, who is now in his 30s. If you're thinking that means Outlander will be re-casting the role, you're probably right since I don't think any amount of makeup will be able to turn young Fergus into a 30-year-old version of himself (though I'm certainly sad to see young Fergus go).
World Travel
Unlike seasons 1 and 2, which have largely taken place in Scotland and France, Voyager sees Jamie and Claire venture to America and Jamaica — plus there's a whole section of the book that takes place on ships. So, we'll get to see Jamie and Claire outside their comfort zones, plus we'll see Outlander go on an even more worldly adventure.
They Meet Geillis Duncan/Gillian Edgars Again
Bet you thought you'd seen the last of Geillis/Gillian in the season 2 finale, but that's not true. She comes back toward the end of Voyager — along with her theory that it takes a human sacrifice to travel through time, so be sure to keep that nugget of information in the back of your mind.
Really, the biggest takeaways from Voyager that we can apply to Outlander is that no matter what happens to Jamie and Claire, they will always be each other's one true love, and they will always be in some kind of mortal peril that will keep us watching at home on the edge of our seats. So, that's what we have to look forward to in season 3, friends!
Images: Starz; Giphy (4)