10 New Netflix Releases You Need to Watch IMMEDIATELY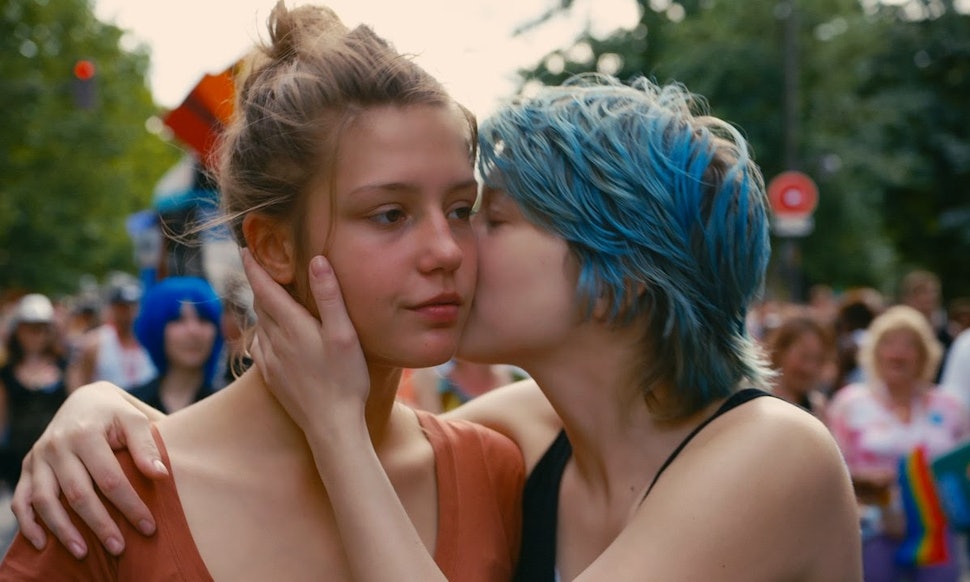 The monthly announcements of Netflix's latest additions to their online streaming arsenault have become exciting events in their own right. Because time and time again, the video service has impressed us with the slew of consistently fresh new titles they add month-to-month. (To say nothing of their increasingly impressive original programming, and no, it's not all just Orange is the New Black and House Of Cards .) There are a ton available this go-around — in any and every genre imaginable — so much so that it might be hard for even the discerning eye to pick out what to watch.
So that's where we come in! With an impressive 53 titles being added to the roster it's hard to know where to begin. So we've rounded up 10 of our favorites — from the Oscar-worthy to the guiltiest of pleasures — that should be added to your To View Queue ASAP.
Blue is The Warmest Color
Perhaps the most notable addition of them all is the much-discussed, highly buzzed-about indie, Blue is The Warmest Color. With a star-turning performance from Léa Seydoux (and a ton of controversy thanks to the practices of director Abdellatif Kechiche), this one seems worth watching if for nothing more than having something to say at parties with movie mongers.
Image: Wild Bunch
The Blair Witch Project
See the faux-found footage fearmonger that started it all.
Image: Haxan Films
Dirty Dancing
I literally should not have to explain this one to you. You need those crazy Swayze eyes in your life. TO SAY NOTHING OF THAT LIFT!
Image: Vestron Pictures
Center Stage
I, as someone who came of age in the early aughts, loved this film. Do you remember it? It had anything and everything a teen girl could want — fun dancing, great music, hopeless love — meaning it's perfect Sunday afternoon hangover watching. Or just-because/just-for-fun/you-don't-really-need-an-excuse watching, too. Bonus points if you can spot a young Zoe Saldana.
Image: Columbia Pictures
Donnie Brasco
Johnny Depp + Al Pacino + biographical crime drama = everything you need to know about this iconic film.
Image: Mandalay Entertainment
Enron: The Smartest Guys in The Room
Feel like getting angry about the state of business and political relations? Interested to know just how terrible and corrupt Enron (former VP Dick Cheney's old company) really was? This brilliant documentary is a must-watch.
Image: Jigsaw Productions
Girl, Interrupted
Want to see Angelina Jolie at her creepygirl best? With Winona Ryder and Brittany Murphy to boot? This based-on-a-true-story drama is as gut-wrenching as it is anxiety-inducing, and a worthwhile watch (especially for girls who live for the late 90s).
Image: Columbia Pictures
Robin Hood: Men In Tights
If you've not seen this Mel Brooks classic there is SOMETHING WRONG WITH YOU. Cary Elwes, Dave Chappelle, Isaac Hayes, Tracey Ullman, Patrick Stewart, Dom DeLuise: all in a musical absurdist take on the class Robin Hood lore. GET THEE TO SHERWOOD FOREST, STAT.
Image: Twentieth Century Fox
Dr. Strangelove or: How I Learned to Stop Worrying and Love the Bomb
This 1964 comedic icon is one of Stanley Kubrick's biggest films and required viewing for cinephiles everywhere. Peter Sellers is at his absolute best.
Image: Columbia Pictures
Adventure Time (Season 2)
Still not satisfied by any of our picks? Well how about trying on the adorably hilarious cartoon Adventure Time for size? The second season hits Netflix on March 30th.
Image: Cartoon Network