Why Rick Moranis Passed On A 'Ghostbusters' Cameo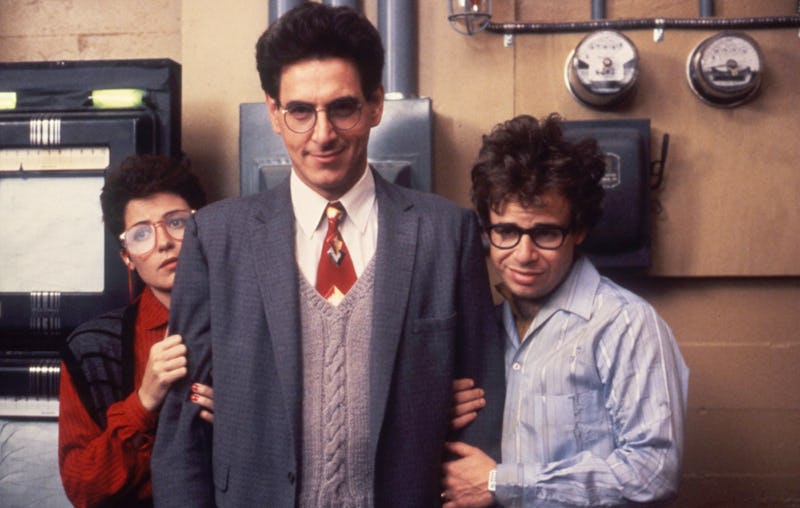 By now, fans of the original Ghostbusters know that most of the original cast is returning to the franchise to make fun cameo appearances in the new Ghostbusters reboot. That's right, Kate McKinnon, Melissa McCarthy, Kristen Wiig, and Leslie Jones will be sharing the screen with the likes of Dan Aykroyd, Bill Murray, Annie Potts, Sigourney Weaver, and Ernie Hudson. The original cast members have been vocal supporters of the new movie, and even did press to promote it. But one voice has been notably absent: that of the actor who played Louis Tully in Ghostbusters and again in Ghostbusters II. Is Rick Moranis in Ghostbusters , and if not, why?
Unfortunately for fans, Moranis is not in the new Ghostbusters reboot. The actor, known also for his iconic Honey, I Shrunk the Kids franchise, was approached for a cameo, but respectfully turned it down. "It just makes no sense to me," he told The Hollywood Reporter , "Why would I do just one day of shooting on something I did 30 years ago?" Fans shouldn't take Moranis' absence from the reboot to mean that the actor disapproves of the film — "I wish them well... I hope it's terrific," Moranis added.
Unlike his Ghostbusters co-stars, Murray and Hudson, Moranis was not swayed by the caliber of the new cast — likely because he didn't know who they were. "I don't know who is out there, and I don't know what they are doing," he told THR when asked about the modern comedy scene in Hollywood. In fact, Moranis has been somewhat removed from the Hollywood world for almost two decades. He last appeared on screen in 1997's Honey, We Shrunk Ourselves, though he has lent his voice to a handful of animated projects, like Brother Bear (2003). Moranis hasn't done much else, causing most fans to believe that he had retired from acting altogether.
Moranis insists, though, he isn't retired. Instead, his relative absence from the screen is the result of an extended break taken to raise his children and his picky nature. "I took a break, which turned into a longer break," he said in the same interview with THR. "I still get the occasional query about a film or television role and as soon as one comes along that piques my interest, I'll probably do it." Unfortunately, the Ghostbusters reboot apparently failed to pass the test.
Sure, you might not catch an appearance from Louis Tully, aka Keymaster, harbinger of Gozer the Destroyer when you go to the theaters this weekend, but you'll still see some fierce friends bust some ghosts.
Images: Columbia Pictures; Giphy (2)