Maggie Sawyer Is Coming To 'Supergirl'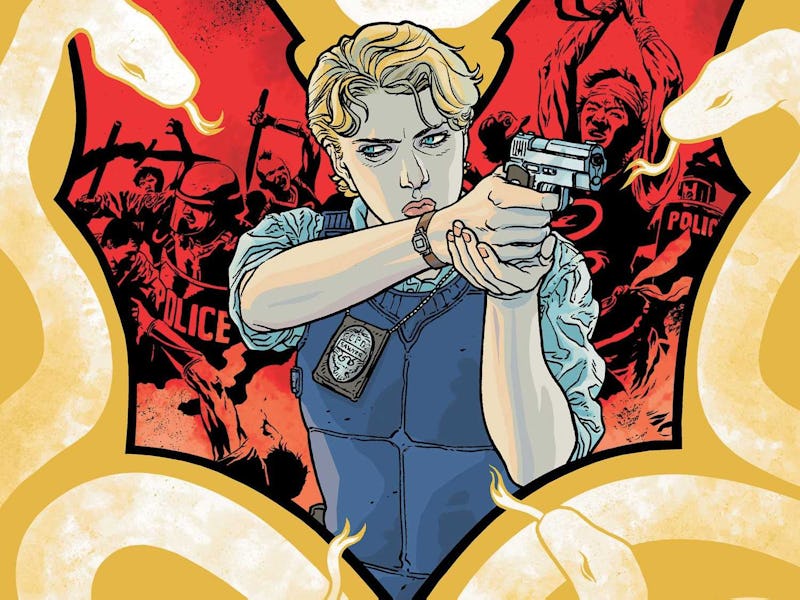 When Kara Danvers, aka Supergirl, moves to The CW for Season 2, she's not only going to be joined by Superman, but by Maggie Sawyer, too. While she is not faster than a speeding bullet or stronger than a locomotive, Maddie Sawyer is the first openly gay female character to join Supergirl. Maggie was first introduced to DC Comic fans in an 1987 issue of Superman as the captain of the Metropolis Special Crimes Unit. She specifically worked for the Science Police, where she dealt with cases on metahumans or superhumans like Clark Kent himself. According to The Hollywood Reporter, on Supergirl Season 2, Maggie will be a detective for the National City Police Department who focuses on cases involving aliens. But more importantly, Maggie, who will be a regular on the series, will be a strong lesbian character on a superhero show.
Unfortunately, there are not a lot of lesbian characters in the comic book world. In its over 80 year history, the DC Universe has only three other lesbian characters besides Maggie — Gotham City officer Renee Montoya, Catwoman's sidekick and protegée Holly Robinson, and Batwoman, who was revealed to be a lesbian in 2006 and would later become Maggie's fiancée. According to The Hollywood Reporter, it would mark the first lesbian wedding proposal in the history of mainstream comics, but the two characters would never get married.
Having a recurring female LGBT character on Supergirl, makes it clear that the days of hiding DC characters' sexual orientation is over. Instead, they want these characters to be loud and proud of who they are. More importantly, the show's producers want a character like Maggie Sawyer to tackle real world topics about sexual orientation.
It's no surprise this casting move would be the next step for Supergirl in her switch from CBS to The CW, which has made sure its superheroes worlds look more like the real world. Taking a page from Shonda Rhimes' book, Supergirl executive producer Greg Berlanti, who is also an EP on Arrow, The Flash and DC's Legends of Tomorrow, has made his DC Comics shows all inclusive. "I wanted to contemporize these comics that I loved growing up and have them reflect the society that we live in now," Berlanti told The Hollywood Reporter. "It's still about working in some of those very real qualities so that everyone feels represented."
To make this possible Berlanti has changed the ethnicity of characters such as Jimmy Olsen on Supergirl and Iris West on The Flash. He's added an openly gay and a bisexual character to Arrow. The producer seems to have continued this mission with his latest casting. The Hollywood Reporter reported, the role of Maggie will be played by Floriana Lima, which is also a step forward for the character, who, in the comics and on the Superman: The Animated Series, is portrayed as a white woman with blonde short hair. Lima, who previously played a lesbian reporter on ABC's The Family, is of Portuguese descent.
Maggie may not be a superhero, but, as Berlanti understands, she is a hero to those fans who want to see more diverse characters on their comic book shows.
Image: DC Comics (2)