Reese Witherspoon Bends & Snaps 15 Years Later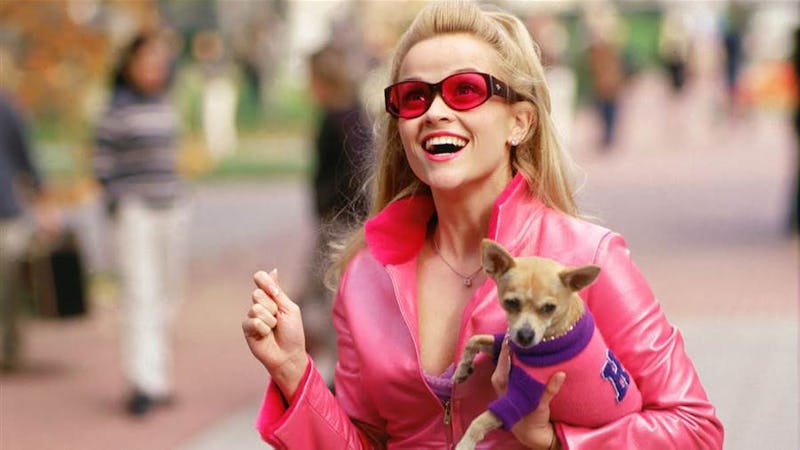 There are certain things that I can't talk about without instantly breaking down into tears, and the fact that it's the 15 year anniversary of Legally Blonde is one of them. Thankfully, Reese Witherspoon is celebrating this momentous occasion with a very special video to distract us all from the horror of how much time has passed since this movie first came out. And thank god for it, because not only does this video of Reese Witherspoon doing the bend and snap provide me just enough relief to stop crying long enough to watch, it also is also a beautiful reminder of how amazing that infamous move is.
Doesn't that gradual bend and super quick snap bring back all of the early '00s feels? It reminds me of the first time I saw Legally Blonde, 15 years ago today, in a movie theater in New York City. It's one of those iconic moments that I can imagine my kids one day asking me about. I know exactly where I was (the movie theater in Lincoln Center), what I was wearing (white Gap capris and a spaghetti strap top), and what I was eating (a king size box of Junior Mints and a large Diet Coke… natch).
That is how memorable the moment I first saw the bend and snap performed in Legally Blonde was for me. I remember the turtleneck tank tops. I remember the fluffy pens. And oh my god do I remember all the pink.
There really was no better move than the bend and snap. It became a cultural phenomenon, a move that fans around the world started doing to show their appreciation for everything that Elle Woods stood for. And, trust me, the move wasn't just about being blonde and getting a guy's attention.
It was one of Elle's many moves in the film that was about taking charge of your life and going after the things you want. I mean, sure, in the case of the bend and snap, the thing that she wanted was a man's attention, but the way Elle Woods lived her life was about so much more than that. It was about not letting other people's expectations or assumptions about you determine who you were and what you could be. And, 15 years later, Witherspoon is bringing us all back to that move where we all learned that getting what we wanted in and of itself was an empowering act.
In addition to reliving the infamous Ben and Snap, the Legally Blonde star also unpacked all of her Elle Woods costumes and tried them on for her Snapchat followers, including the outfit she wore when she first performed the move. Clearly this movie is something worth celebrating, and Witherspoon is making sure that we all do that.
Sure, a lot has happened in the 15 years since this movie first premiered, but Witherspoon's serious throwback skills have the power to bring us right back to that glorious time in all of our lives.
Image: Type A Films; snapsbyreese/Snapchat