Which Pore Strips Work The Best?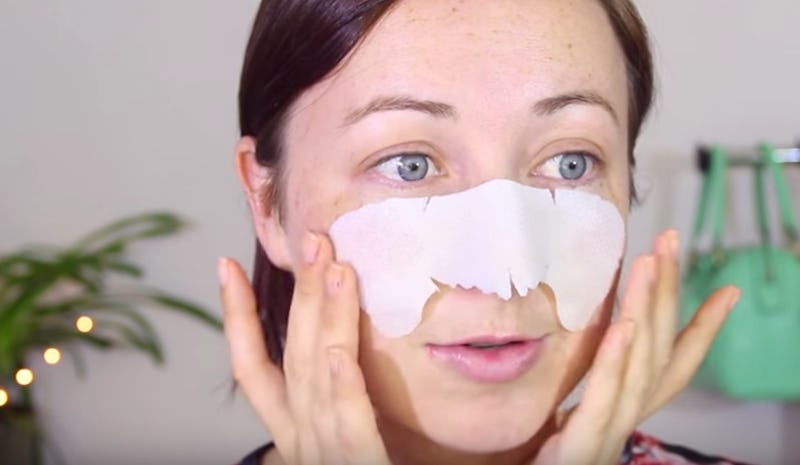 I've got a confession to make: I don't recall ever using pore strips — crazy, considering my profession? However, I wanted to discover which pore strips work the best, without having to put my nose through the trauma of experimenting with a plethora of pore strips, and you probably do too before you dive into this beauty ritual. In my defense, I don't suffer too badly from blackheads on my nose, although teen me certainly did. Although when I do break out, my pimples are bursting with glorious pus, so I think they kind of make up for my blackhead situation. So, I needed to find out which pore strips I should turn to in order to refresh my blackhead dotted beak.
I realized I was probably not alone in this predicament and that there's likely a bunch of folks who are also new to pore strips, or have tried a couple but not found the right fit yet. So I discovered a bunch of beauty YouTubers who had tried and tested a variety of pore strips from different brands, saving you and I the legwork – because, who wants to excessively pore strip their way to a red nose? Not me! Sure, a marathon pore stripping session is bound to help you discover which pore strips you prefer, but I can't imagine such an exercise is good for your poor nose!
Thus, here's what real women thought when they tried and tested different pore strips. Take a peek to see which strips might suit you!
This vlogger shows an awesome super close up of her nose before and after using the strips. These pictures show that two of her worst blackheads were removed, however these strips made her eyes water really badly, so they might not be for the faint hearted. The great thing about this product is the steps process that preps and soothes your skin before and after the blackhead removal.
Holika Holika Pig Nose Clear Blackhead Kit, $7, Amazon
These pore strips cost a mere $9 for a pack of four, making them amongst the cheapest of the bunch. Plus, the lady trying them out felt they removed lots of blackheads, which she explained did not come back. It sounds like you get a lot of bang for your buck with these strips!
Daiso Charcoal Pore Strips, $9, Amazon
This YouTuber explains that she's been using Bioré's strips for "...a really long time..." She continues, "...it's always a repurchase for me." A short but sweet answer but it seems these work for her!
Biore Ultra Deep Cleansing Pore Strips, $6, Amazon
So how do the charcoal strips measure up in comparison? This gal was, in her own words, "quite impressed" which bodes well for Bioré as a pore strip creator.
Biore Deep Cleansing Charcoal Pore Strips, $6, Amazon
According to this lady's experience, these Purederm Botanical Choice Nose Pore Strips In "Charcoal" worked better for her than Bioré Deep Cleansing Pore Strips and she'd even recommend the Purederm Botanical Choice nose strips too.
Purederm Botanical Choice Nose Pore Strips In Charcoal, $6, Amazon
This YouTuber's initial reaction after removing this mask from her face and looking in the mirror was literally, "Wow." She explained it made her pores less prominent, but she didn't discuss blackhead removal in detail like the others.
Benefit POREfessionals Instant Wipeout Masks, $32, Sephora
Although this product isn't technically a strip, it does peel off like a strip. It's definitely worth including this product in this lineup because the results of the used mask were astounding. After removing, the vlogger zooms in on the used mask and it is covered in blackheads. IMO, this definitely looks to be one of the most effective blackhead removal systems – the YouTuber describes it as "amazing" and the proof is in the jam-packed used strip.
My Scheming Blackhead Removal Activated Carbon Mask Set, $10, Amazon
This product by Pilaten works similarly to the above My Scheming product, you apply it like a mask but it peels off in a strip. Again, after use, this product was littered with black heads and the vlogger explained that it "...definitely does it's job."
Pilaten Blackhead Pore Strip, $6, Amazon
9. DIY Blackhead And Whitehead Remover Peel Off Mask
Any DIY that requests I put non-toxic glue on my face kind of sets alarm bells ringing in my head. It didn't help that it looked painful to remove, but the YouTuber was peeling off glue from her face so what could I expect? Sure, it worked but I'd like to find out what an expert dermatologist thinks of this concoction.
Although there were a few conflicting opinions amongst these reviews, it appears the clear winners are the black, mask style strips. But, for value for money, it seems the Daiso Charcoal Pore Strips are awesome too. The DIY mask removed lots of blackheads and whiteheads, but I wouldn't recommend using glue of any kind on my face without professional advice. Happy pore stripping un-clogging queens!
Image: Hayls World/YouTube