The Ice Age Movies Could Keep On Coming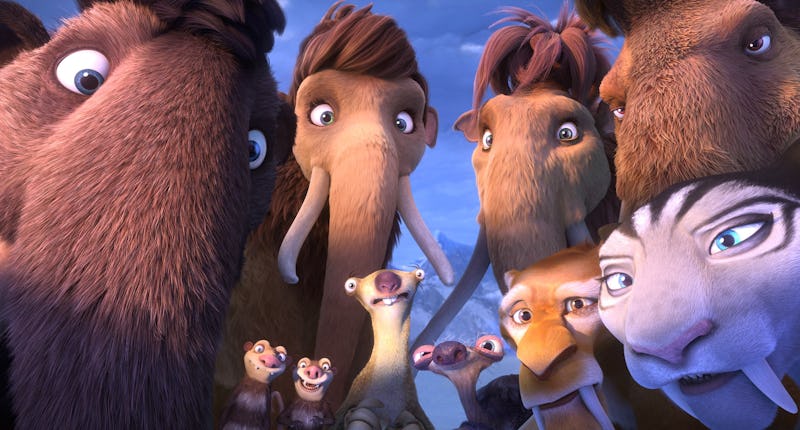 Most animated films would consider themselves lucky to earn a sequel, let alone spawn a franchise. Pixar's Toy Story is certainly the most lauded animated franchise, with three outstanding entries and a fourth (and likely final) one on the way. The Shrek franchise called it a day after four films, and the Madagascar series seems to have tapped out after three movies and a Penguins of Madagascar spin-off. But there's one animated franchise that just won't quit, and that's Ice Age. The fifth film in the series, Ice Age: Collision Course, hits theaters on July 22, but will it be the last? Will there be another Ice Age movie after Collision Course?
The answer is... maybe. Nothing has been announced regarding a sixth film, but I definitely won't be too shocked if the series continues. As of right now, Ice Age ranks as the second-highest grossing animated franchise of all-time after Shrek; and it has a chance to become number one if Collision Course performs as well as the last two films in the series, which each earned over $875 million worldwide. The timing of the movie is a little tough given that monster hits Finding Dory and The Secret Life of Pets will still be in theaters threatening to lure away family audiences, but the film will still likely make a ton of money.
And really, the box office performance is likely the main factor in dictating whether or not a part six is produced. 20th Century Fox, which distributes the Ice Age films, doesn't really have any major franchises other than X-Men and Ice Age at the moment; at least not until those forever-gestating Avatar sequels start being made. So it seems like they would want to milk Ice Age for as long as they can. On the other hand, the movie's marketing does have an air of finality surrounding it. The plot deals with a cataclysmic event that threatens to end the Ice Age, and while the movie isn't coming out and saying that it's the end, there are hints. For instance, one of the film's posters uses the tagline "They're Going Out With a Bang," while the trailer describes the film as "the defining chapter in the greatest chillogy of all time." Is a chillogy defined as five movies? I have no idea, but these details certainly seem to hint at this being the final film in the franchise.
It's too early to tell if there will be any more Ice Age movies after Collision Course. If the movie is a big box office performer, then there will likely be a push to continue the franchise. Or maybe five films will prove to be enough, regardless of how well it performs. Fans will just have to wait and see.
Images: 20th Century Fox; Giphy