You Can Get The Puma Fierce Brights Early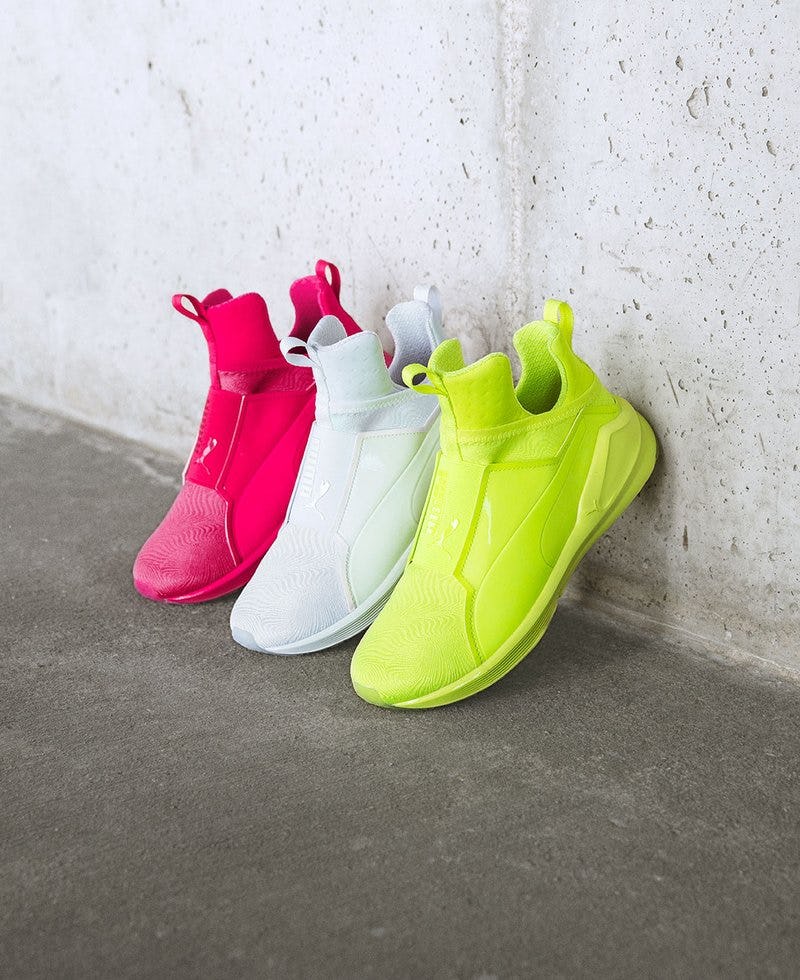 Hey, sneaker lovers! Puma spokeswoman Kylie Jenner wants you to get a pair of Puma Fierce Brights early. The latest colors in the Puma Fierce collection are college textbook highlighter shades like bright yellow and hot pink, as well as white. If you wear these trainers while jogging as the sun goes down, they will provide an extra layer of safety, since motorists will be able to spot 'em a mile away. They are statement trainers, that's for sure, and they can add a maj pop of color to any all-black or all-white athleisure ensemble. They are anything but boring and the new shoe hues drop "in a few weeks," according to a post on Jenner's app. But she is offering a way for a few lucky fans to scoop up these kicks early. How do you get the Puma Fierce Brights before anyone else?
Update: Puma PR responded to Bustle via email, confirming that the planned release date for the Puma Fierce Brights is August 18.
Jenner is hosting a Puma Fierce giveaway contest, which she revealed on her subscription-based app. She is giving away five pairs from the Bright Pack Collection, which she describes as "just as cool" as the original Fierce kicks. What do you have to do to enter to win? Describe the shoes as creatively as possible in three words. Jenner encouraged her fans to "wow" her and her team with their descriptions. So hop to it! Come up with three rad words that effectively encapsulate the Bright Pack hues.
Here, have another look at the kicks and the colors. That should inspire you to come up with a creative and effective description. Put those vocab skills to work. You have until 7 p.m. ET/4 p.m. PT on Friday, July 15, to enter; you also must be 18 to participate. Be sure to read the fine print regarding contest entry, as well.
Those are the official details via a screen grab.
Personally, I'm a big fan of the Rihanna Puma Creepers, which have not come back for another round yet. I also love the classic suede kicks, which Jenner is rocking in the pic above.
I also dig Jenner doing the old school, '80s thing in her latest Puma promo spots. She may have been born in 1997, but the stylist effectively transported her to 1987 with the creative direction. #Nostalgia
Bustle reached out to Puma reps to inquire about the commercial release date for the Puma Fierce Brights.
Images: Courtesy of Puma (1); TheKylieJenner.com (1); Puma/Instagram (2)