Danny McBride Basically Lived 'Vice Principals'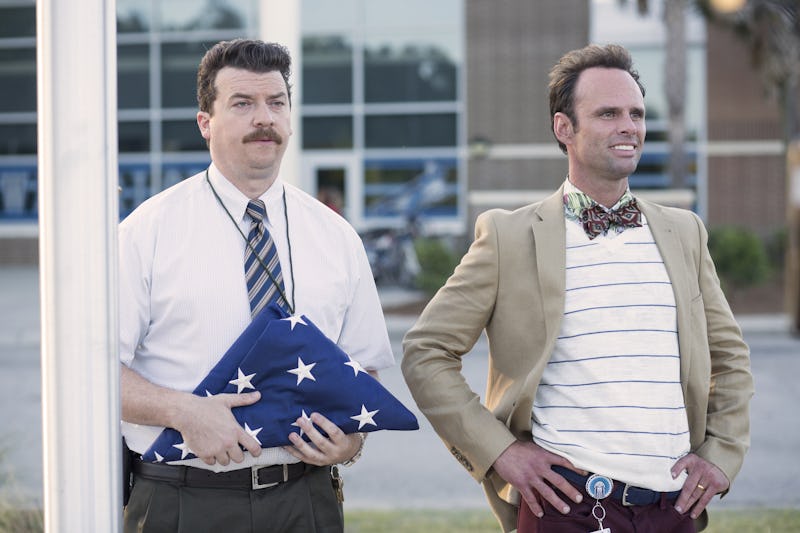 Maybe I'm biased, but I'm inclined not to trust people who actually had a good time in high school. The only way I ever want to reenter that world of social stress, sticky lockers, and lazy lab partners is through the safe distance of television. This Sunday, HBO is premiering a new comedy series Vice Principals for anyone who ever wondered what it would look like if Eastbound And Down procreated with Dawson's Creek. Vice Principals stars Justified's Walton Goggins and Eastbound star and co-creator Danny McBride as rival, you guessed it, vice principals at a South Carolina high school duking it out for their retiring boss's job. From the trailers, it looks like the show has the worst parts of secondary education down, from the hallway fights to the faculty's embroidered sweater vests. Could the accuracy be a hint that Vice Principals is set in a real school?
The parents of South Carolina will be happy to learn that the North Jackson High of Vice Principals does not exist. There is a North Jackson High located in Jackson County Alabama, but it doesn't appear to be associated with the show at all. It's a pretty standard format high school title, unlike other, more explicitly fictional ones like, say, Clueless's Bronson Alcott High. I would have been shocked not to find an up-and-running institution that shares the name.
Vice Principals may look familiar to some former students in McBride's home state of Virginia, however. According to The Daily Beast, the actor came back to his hometown after a disappointing stint trying to make it in Los Angeles and took a job as a substitute teacher. "It was important to me to explain to the kids that I wasn't like their other teachers: I tried to make sure they thought I was cool," McBride told Rolling Stone. "But all they cared about was if I smoked weed and what kind of car I drove. I couldn't admit that I smoked, and I drove a Hyundai Elantra — so I wasn't really impressing them that much!" Education wasn't his calling, however. McBride's career as a molder of young minds was short-lived, but helped inspire a script for a project about Southern school administrators that he and his Eastbound And Down writing partner Jody Hill began working on back in 2006.
The setting of Vice Principals is shifted from McBride's Virginia, but still located smack in the middle of the South. McBride told The A.V. Club that the South Carolina setting plays an important role in the truthfulness of their comedy. "It's a 'write what you know' thing. In a show like this, if we set it in an area that we're familiar with, when it comes time to have a scene in a certain place, we can pull from our own childhoods." Hill cited variety as another pro. "When we were growing up especially, it was all just California," Hill said. "That's all you would see on TV, just valley kids or whatever."
Rest assured, Vice Principals' fictional North Jackson High will be "valley kid" free.
Image: Fred Norris/HBO