This Black Lives Matter PSA Is So, So Important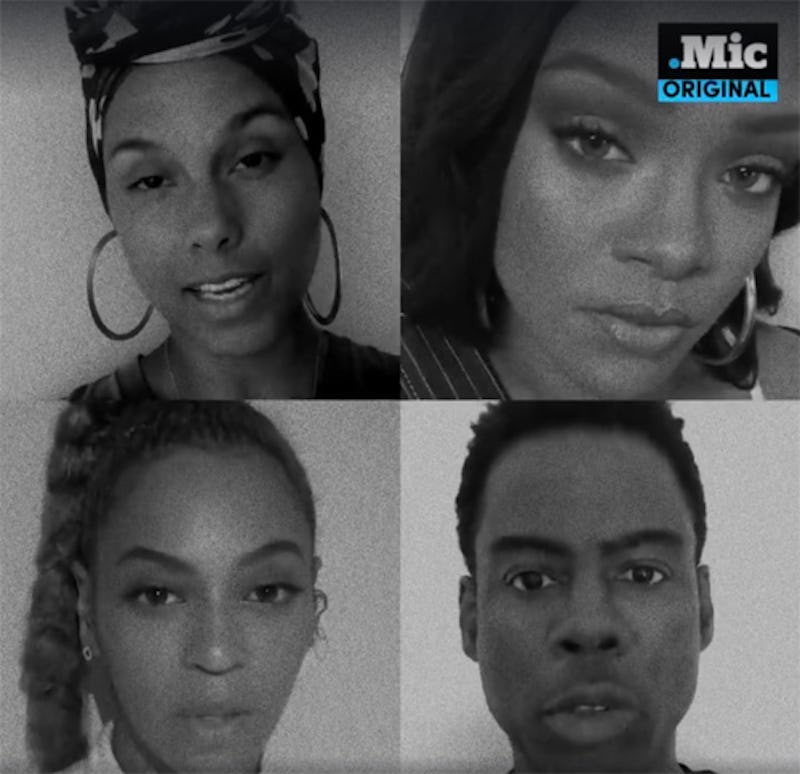 Alicia Keys, Beyoncé, Rihanna, Taraji P. Henson, Chris Rock, and Lenny Kravitz are just some of the celebrities who have joined the intense, yet emotional outcry for equality in the fight against racial injustice in America. In a PSA video posted on Mic in connection with the We Are Here movement, 25 celebrities named ordinary and seemingly mundane acts that could get you killed in the United States if you were born black — along with the name of a victim who has actually been killed because of the act named. In the wake of two horrific weeks which included two black men, Alton Sterling and Philando Castile, killed by police officers, celebrities are using their voices and calling attention to racism and police brutality.
The long list that includes selling CDs outside of a supermarket, calling for help after a car accident, driving with a broken brake light, attending a Bible study class, walking up the stairwell of your apartment building, making eye contact, and merely laughing are all named by these high-profile celebrities as the uneventful but everyday activities that resulted in the deaths of more than 23 black individuals at the hands of police officers.
Relentless activist Keys speaks at the end of the video, saying, "The time for change is now. We demand radical transformation to heal the long history of systemic racism so that all Americans have the equal right to live and pursue happiness." The nearly three minute clip also urges viewers to sign a petition urging President Obama and Congress to take action against police brutality.
The video not only encourages others to take a stand against injustice in America, but it brings to the forefront a frightening and all-too-common occurrence. Here in the United States, it's easy to forget how dangerous complacency is — and what is even more grimacing is how easily we accept that driving in a car with your girlfriend while your child is in the backseat is suddenly punishable by death. This kind of powerful movement incites compassion and solidarity in the ever-changing landscape of America, but most importantly, it places the strength back into our hands to right the wrongs of the broken system.
Because, as Bustle's own Brianna Cox writes,
When you're black, it doesn't matter if your name is biblical or stereotypically black, it doesn't matter how you speak, your college admissions status, the way you dress, or the good you've done in the world. If only one person implies you're belligerent, scary, large, or dangerous, that reputation will stick. And your murder, regardless of how unnecessary it was, will be justified.
— and we must change this.