The New ABH Stick Foundations Are Super Affordable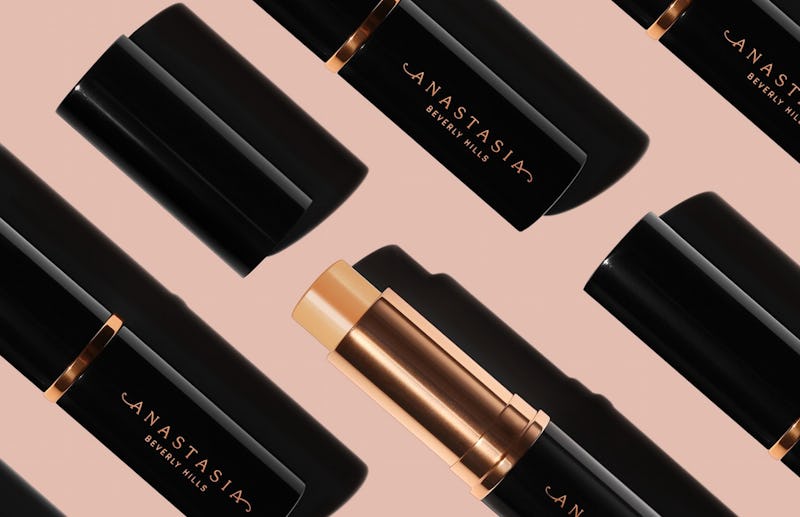 The new Anastasia Beverly Hills foundation sticks are coming, and we've only got a little while to wait until their August release. People have been waiting on the incredible brand to release foundations for some, but how much are the new Anastasia Beverly Hills stick foundations? They're actually pretty affordable. While you're busy spending all your money on their new glow kits or trying to find the perfect Kylie Jenner lip kit dupe from ABH, make sure you put at least a little cash aside for the newest addition to the cosmetics family.
The new stick foundations are set to release next month — though no official date is known — and it's got people wondering how much the foundations will cost. Get ready, because it's good news. The Anastasia Beverly Hills stick foundations cost $25 which means you can basically get a contour, highlight, and base shade for the same price as an ultra high end foundation alone. What's not to love about that?
Plus, alongside the relatively inexpensive cost, the shade range for the brand is totally diverse. With 19 new shades plus four highlight and contour shades, nearly everyone will be able to find a foundation stick that works for them. ABH has definitely done their homework when it comes to their foundation launch.
Anastasia Beverly Hills Stick Foundation in Tan, $25
This isn't the brand's for foray into releasing a highly anticipated product, though. They've been at the forefront of the beauty industry for years now. ABH announced the launch of two new glow kits — Sweets and Moonchild — only last week, and the fanfare was impressive.
On top of being known for their glow kits, the brand is also essentially celebrity backed thanks to the Kardashian and Jenner clans. Nearly each member of the family has seen founder Anastasia Soare for their brows, and Kylie Jenner in particular is a major fan of ABH's Brow Wiz.
Basically, Anastasia Beverly Hills is easily one of the most sought after brands on the market, and that's not going to change now that they're release affordable foundations. So brace yourself and your wallets for the upcoming release.
Images: Courtesy of brand