DIY The Nails The Internet Is Currently Dying Over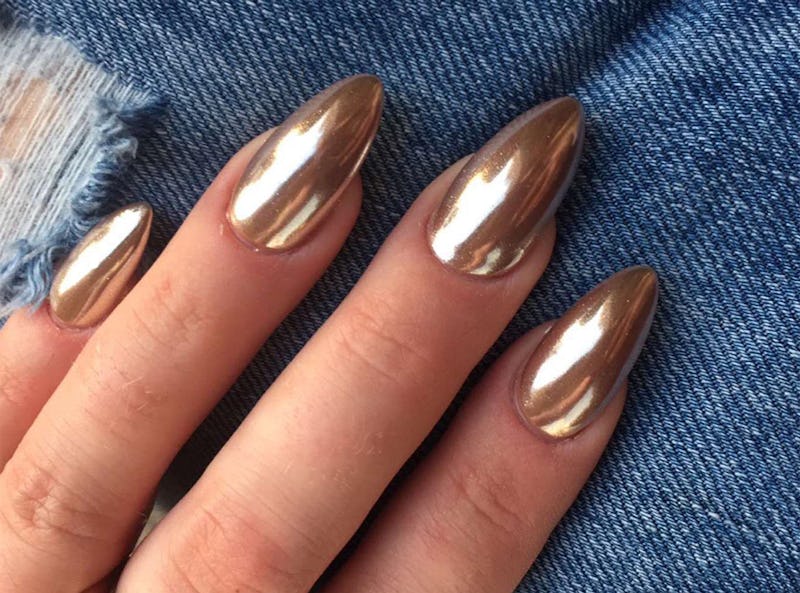 Real talk: The coolest nail polish trend is happening right now. And if you're not already obsessed with chrome nails, you're about to be. Sure, super metallic and foiled-finish nail polishes have always been pretty drool-worthy. But this takes that mirrored, high-shine finish to the next level. Of course, achieving a chromed-out manicure is not as simple or as quick as a typical, metallic mani. There are quite a few steps, and a lot of curing that needs to happen for chrome nails to look their best.
While you could totally still achieve the look at home with the right tools, if you don't have all of the ingredients, aren't much of a DIY-er, or just don't want to have to clean up a bunch of sparkly powder, you're probably better off finding a nail tech who can chrome up your nails for you. If you do want to give it a go yourself however, you'll need the base color of your choice, a gel top coat, a nail lamp, loose chrome powder, and a sponge-tip applicator. Oh yeah, the coolest part about this manicure is that the chrome is rubbed onto your nails — it's not actually a polish. Here's how to get the look, courtesy of Daily Charme, which has the chrome pigment you need up for pre-sale now.
While silver over black is the classic chrome manicure, there are tons of variations on this nail look. It all depends on your base color and your powder color. Take a look at some of these chrome nail options that will make you want to never have un-mirrored tips again.
Pink Base
I feel pretty confident saying I could happily watch chrome powder application on loop for hours.
Blues & Greens
Beyond obsessed with these.
Pink On Pink
If only Barbie had known this was an option...
Stamped Silver
Because stamping and rhinestones are how this manicure goes to the next level.
Gold
I have no words.
Rainbow
How are you even supposed to choose?
Now if you'll excuse me, I have to go find someone who can turn my nails into mirrors.
Image: @makeupstudiolediana/Instagram