Rihanna's Camo Creepers Are Coming Soon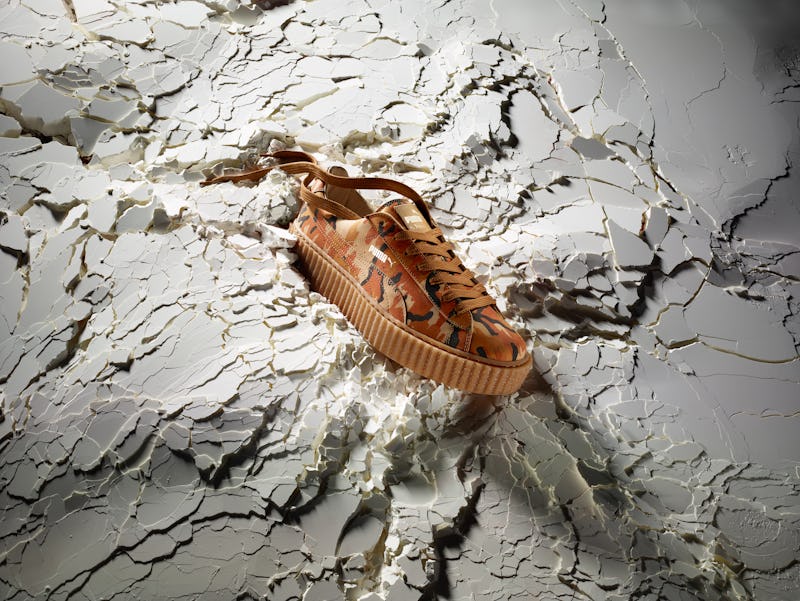 If you were shut out of the late May drop of Rihanna's Puma Creepers, which sold out in a half-hour, you are probably just now getting over your fashion depression at missing out on those cool kicks. They have not been restocked, either. However, rumors and photographic evidence began floating around the web earlier this week, suggesting that Rihanna is dropping new Puma Creepers in camo print. Wait... what? Camo Fenty Creepers? Is this real? When will The Creeper Camo be available?
Hold on to your sneakers, folks! Puma confirmed to Bustle that The Creeper Camo comes out on July 28. It will be available at Puma.com, Puma stores, and select retailers globally.
On Tuesday, July 19, I received a promotional mailing list email from Six: 02, a fashion retailer, stating that new Creepers would be dropping on Thursday, July 28. Instantly intrigued, I poked around and discovered plenty of pics of burnt orange camo print Creepers all over Instagram and social media. I then reached out to Puma PR reps to inquire about The Creeper Camo and they confirmed that the kicks are legit.
Observe the Rihanna x Camo Puma Creepers. The press release describes The Creeper Camo is as a rich suede leather upper, with waxed laces, a metallic gold branding, and orange camouflage print fabrication on a gum sole.
Overall, the Creeper is a remix of the original Puma Suede sneaker. And it's a good one, too!
These Creepers are so fall-ready. They look like a pile of leaves on an October day. These kicks would totally add a pop of color to any monochromatic ensemble, too. You can wear a really basic ensemble and these sneaks would offer an instant fashion upgrade.
That's the screenshot of the email I received from Six: 02. They even included a ticker, since the mania, hype, and shopping frenzy that surrounded that last Rihanna Puma Creeper drop was insane AF.
The Creeper silhouette, with the thick, platform sole, is the epitome of street and chic.
The green pair with the maroon stripe is the ultimate unisex style.
The all-white Creeper is also pretty sweet.
Obviously, Rihanna hit on something with the Creeper silhouette. She is having fun, as evidenced by this new colorway. Personally, I prefer the solid hues to the camo version. But I cannot deny that the print is eye-catching.
I wonder if there will be other camo colors dropping this month?
Stay tuned!
Images: Courtesy of Puma (4)