15 Undercut Designs That'll Inspire You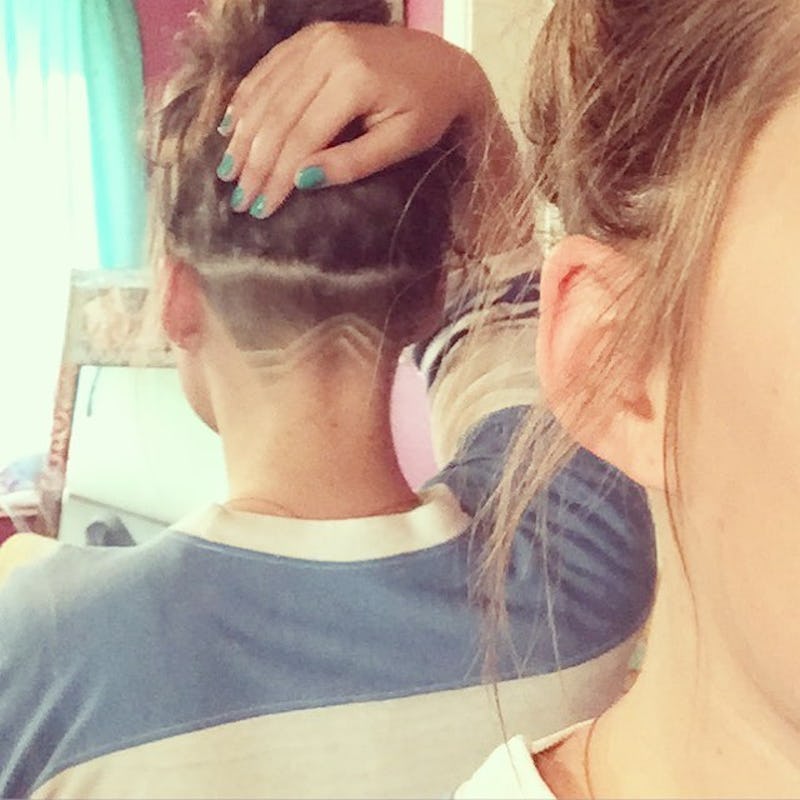 If there's one thing I love about summer, it's undercutting my hair. My curly, dry hair turns into an unmanageable mane in heat and humidity, and an undercut buzz has helped me keep my locks in check while still feeling cool. If you're thinking about getting one, consider these 15 undercut designs that'll definitely give you inspiration.
Hair trends are always coming and going: pixie cuts, ombre colors, perms, braids, and beyond. There's a lot to choose from, but one of my favorite hair trends is the undercut. It's a lifesaver for big, curly, heavy, and dry hair, but it's also an awesome opportunity to express your personal style. Instead of worrying about washing and drying your hair, you can throw it up in a top knot and feel wickedly cool showing off your fresh buzz. It's a powerful trend for an unexpected reason.
According to Dr. Sarah Cheang, the design historian at London's Royal College of art, "the visual irregularity and aggression of very short or clippered areas create a disturbing juxtaposition with the femininity of long hair and bring to mind the dangerous image of punk." From personal experience, I can tell you that making a big or unexpected change at the salon can be a huge source of confidence. "It's a double message of femininity and threat that may make an onlooker feel uncertain. And therein lies its power," she says.
Now that you're on board, here's some fresh inspiration for your buzz.
1. Triangles
A high cut is perfect for thick hair.
2. Side Swoops
Designs are a cool way to get creative with a trendy cut.
3. Flower
Just because it's punk doesn't mean it can't be feminine.
4. Waves
Show off your love for the beach.
5. Single Line
Simple is significant.
6. Heartbeat
This is such a cute design for a med student or professional.
7. Pulse
How adorable is this braid, showing off her undercut!
8. Lines
I love how this design goes all the way into her sideburns!
9. Darts
You don't have the entire under half, but just a little section.
10. Star
Still feeling patriotic? Try a star!
11. Eye
It's like saying, "See how cool I am?"
12. Unfinished Lines
I've had this design and it's so subtly cute.
13. Zebra Stripes
Spots or stripes? Both look crazy cute!
14. Diagonal Shave
I love this slanted look.
15. Fade
You can do a simple fade from bottom to top, or add lines!
Image: Jessica Willingham