11 Ways To Channel Your Inner Lizzie McGuire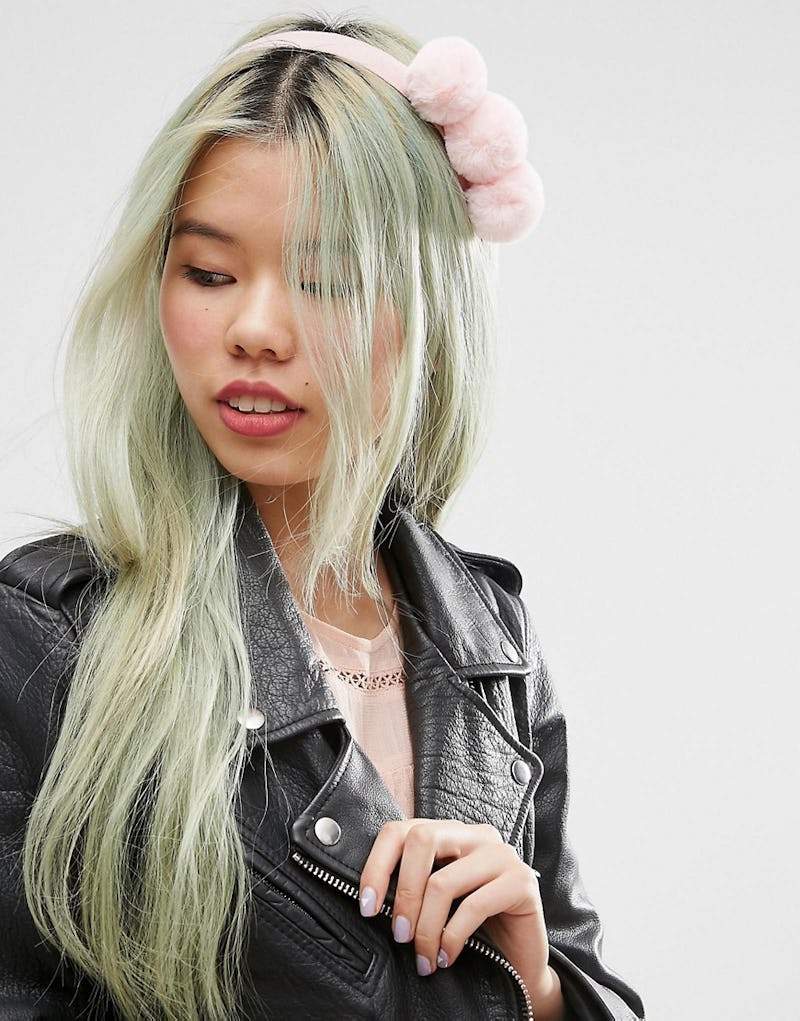 If you grew up watching Lizzie McGuire, chances are you're still susceptible to swooning every time you see pastel-colored plastic jackets and pom pom headbands. While those tween looks made our childhoods iconic, you can still dress like Lizzie McGuire in your 20s, regardless of how crazy that might sound. If you open your wardrobe and see a lack of Lisa Frank-like zebra prints, glitter skirts, and neon-hued handbags, then it's time to change all that.
Although some of you with more classic styles might be hyperventilating at the idea, I'm going to ask you to stay with me on this one. The idea isn't to go out into the world wearing crazily-dyed clip-on hair extensions in your mane or sporting graphic tees and fake nose rings. Instead, the goal is to add a little bit of tween chicness into your usual style. All you need are accents — a little bit of sequins here, some patent there, and you're on your way towards the McGuire closet of your dreams. So grab your Miranda and pour over these ideas. Here are 11 ways to channel your inner Lizzie McGuire, some of them subtle, and some of them brilliantly in-your-face. Now make Liz proud.
1. Wear A Pom Pom Headband
Limited Edition Pom Pom Headband, $16.50, ASOS
Lizzie and crew always had their hair accessories on fleek, so channel some of their quirky tendencies and go for this pom pom headband. When not matched with glitter graphic tees and flared jeans, these actually look pretty modern and 2016 chic.
2. Rock The Baby Pinks
Swing Dress, $24, Missguided; Light Pink Skater Dress, $49, Lulus
Lizzie was all about fearlessly exploring every trend available to a pre-teen, but if her style was anything, it was girly. To pay homage to the middle schooler, dress yourself up in cotton candy and baby pinks, like this swing dress.
3. Add In Feather Accents
Feather Trim Mini Dress, $192, Missguided; Feather Hem Dress, $32, Make Me Chic
Lizzie and Miranda weren't afraid to play with texture, often sporting sequins, fuzzies, and pleather. If you're feeling bold, spend a weekday in a mini dress with a feathered hem — something that would definitely make Lizzie tilt her head in approval.
4. Remember: See-Through Mesh Shirts For The Win
Silver Mesh Crop Top, $16, Love Culture; Transparent Crew Neck, $5, eBay
There was episode after episode of this show in which Lizzie would layer her spaghetti strap tanks underneath button-down sheer shirts, so channel that clever sartorial move with a mesh shirt of your own.
5. Pull A "Miranda" With Plaid Pants
Red Plaid Print Vintage Pants, $31, May Kool; Brown Plus Size Plaid Ankle Leggings, $18, Overstock
Miranda oftentimes opted for edgier, more tomboy-esque pieces, and one of her most standout outfits was when she wore plaid flares with a "fish n chips" graphic tee, and bandana. Give the look a more grownup twist by ditching the T-shirt and pairing the punk homage with heels.
6. Sport Sequined Cami Tops For Extra Girlishness
Sequin Cami Top, $43, ASOS; Rosa Sequin Tank, $25, Swak Designs
Just because you're wearing cut-offs doesn't mean you can't dress yourself up in glitter. Disco ball camis for the win! I can just imagine this hanging in Lizzie's closet, right next to the plastic-like jackets and zebra print skirts.
7. Invest In Pom Pom Hair Ties
ASOS Pom Hair Tie, $6.50, ASOS
Again, one can't have too many pom poms in their wardrobe.
8. Add A Confetti Sequin Choker
Confetti Sequin Chokers, $13, ASOS
If you're not comfortable looking like it's New Year's on a regular school day, than just a dash of sparkle at your throat will do the trick.
9. Wear Glitter During The A.M.
Crystal Crop Top Tutu Netted Mini Skater Dress, $195, ASOS; Multi Sequin Embellished Shift Dress, $106, ASOS
Or if you have no qualms about indulging your inner Lizzie McGuire, go all-in with an embellished dress during the a.m. McGuire oftentimes went to school wearing sequined shirts or gilded skirts, so this move wouldn't be outside of her aesthetic. Just imagine these with a pair of sneakers — sartorial magic.
10. Preach It: Quirky Handbags Add Panache
Skinnydip Faux Snake & Iridescent Squiggle Saddle Bag, $49, ASOS
Skip the black bucket bag and instead reach for this quirky, girly number. Motifs like stars and hearts go a long way in adding to a look.
11. Carry A Patent Backpack
Mi-Pac Exclusive Lilac Patent Backpack, $65, ASOS
Or if you have more than just a phone and wallet to carry, pack your laptop and lunch in a patent, sherbet-colored backpack. This will give you a punch of color and texture that would have Miranda and Liz doing backflips.
See — it's not all that hard to pull off the McGuire.
Images: Courtesy Brands