Could This Break Up Ezria On 'PLL'?!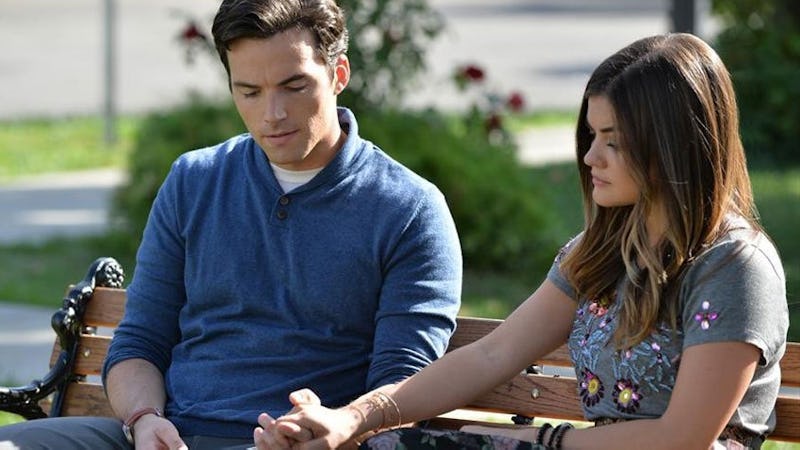 Hardly any couple on Pretty Little Liars has it easy, but it's safe to say that Aria and Ezra have faced a particularly challenging road. Of course, that's bound to happen when you engage in a secret student/teacher relationship, but now that Aria is five years out of Rosewood High and in the real world, there's a whole new set of problems that this couple is facing. After falling back in love with Aria during their shared literary journey, Ezra finally listened to Ezria shippers' cries and proposed to Aria. Though we don't know yet if Aria will accept Ezra's proposal, her saying "yes" might not necessarily mean it will be smooth-sailing to a wedding. New PLL spoilers hint Ezra's missing girlfriend Nicole could return, and it might seriously mess things up between Aria and Ezra.
The new spoilers come from the official Freeform synopsis for August 9 episode "Original G'A'ngsters," and it might distress any Ezria shipper:
Jason returns to town to stop Ali from getting too close to Mary. The girls learn something new about Mary and Mrs. DiLaurentis that leads them to a storm cellar full of clues. Ezra gets a call about someone in his past that could change his course. Noel Kahn grows more and more suspicious and rises to the top of the list of suspects for Uber A.
Though we don't yet know who that phone call could be from, there's really only one person who could call Ezra and make him change course — and that's his former girlfriend Nicole. Nicole went missing in South America, and it sent Ezra into a serious depression spiral. Though he found love again with Aria, it's unlikely that he would have if Nicole hadn't been completely out of the picture — and throwing her back in the picture might mess things up for this possibly-engaged couple.
In recent episode "Along Comes Mary," we see Ezra get a phone call from Nicole's cell phone number, which Emily encourages Aria to delete as to not upset Ezra. That's because, as far as Emily and the rest of the world is concerned, Nicole is dead — the town even had a funeral for her. Clearly Emily doesn't watch Pretty Little Liars, because having a funeral for someone definitely does not mean that they are really gone — Alison and Mona can certainly attest to that. As far as I'm concerned, no body means Nicole is likely just missing, or, perhaps, hiding out somewhere. Maybe the phone call that Aria received was actually from Nicole, who was trying to get in touch with Ezra, totally unaware that he had moved on.
Honestly, I have no idea what the proper way to handle this situation would be, but I have seen Castaway, so I'm assuming that Ezra would end up honoring his commitment to Aria despite Nicole's return. However, even if that happens, I'm not so sure Aria would want to stick around — no one wants to feel like they were runner-up to a not-so-dead girl. Here's hoping this situation stays just a little less awkward than when these two were student and teacher.
Images: Freeform; Giphy