Moriarty Is Up To No Good In 'Sherlock'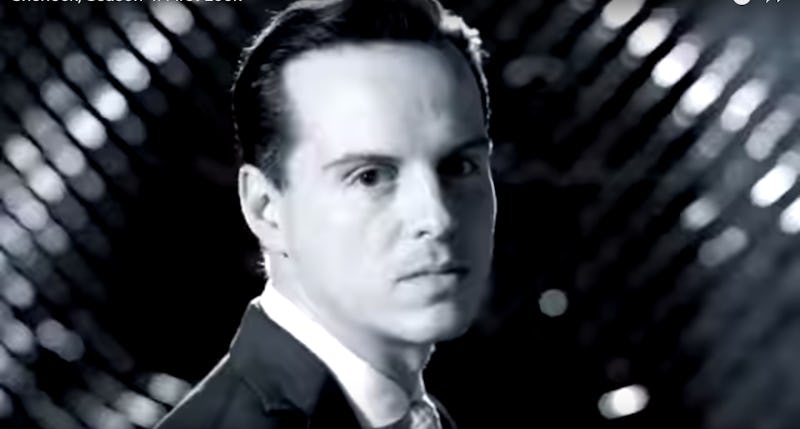 Season 3 of Sherlock was the most intense the popular BBC show has gotten, to say the least, but from the sneak peak shared at San Diego Comic-Con on Sunday, July 24, things are about to get a lot more hectic in Season 4. In fact, the first face fans see on-screen is the previously-thought-of-as-dead Moriarty (played beautifully by Andrew Scott) as he asks snidely, "did you miss me?" One guy seemingly coming back from the dead is enough to tell you that the season is going to have a lot of surprises. But is Moriarty actually alive on Sherlock Season 4, and if so, what is he up to?
Let's take a brief stroll down memory lane to brush up on your Moriarty knowledge. Fans first met Jim Moriarty in Season 1 in an episode called The Great Game in which he forced Sherlock to solve mysteries in a designated amount of time to keep different victims from being blown up. After strapping a bomb to Watson and being semi-defeated, he continued to become our favorite villain by creepily messing with Sherlock until the finale of Season 2. In "The Reichenbach Fall," Moriarty shot himself in the face while Sherlock faked his own death. At the end of Season 3, Sherlock was exiled from the UK for shooting a guy named Charles Augustus Magnussen. Then, in a 2016 special called "The Abominable Bride," Sherlock returned to the UK to save the day because the supposedly dead Moriarty had somehow managed to broadcast himself on televisions all across England. While Sherlock was home, he managed to solve an old case which so happened to be about people coming back from the dead... coincidence? Probably not.
So far, the showrunners of Sherlock have done their darndest to make us all certain that our favorite evil guy will not be returning. After the death (?) of Moriarty in "The Reichenbach Fall," co-creator Steven Moffat hinted we wouldn't see much more of Moriarty in an interview with Radio Times saying, "I don't want [Sherlock] to turn into a show that's about one villain and one hero. Moriarty was great because he was a surprise. Every time you bring him back he won't be as big a surprise." Then, the BBC went on to announce in May that Toby Jones would play a villain in Season 4. BBC, I see you, I hear you, but after the Season 4 sneak peak, I don't believe that Toby will be the only baddie present.
We know from the end of Season 3, the 2016 special, and the opening of this new trailer that Moriarty at least somehow managed to get himself on televisions across the UK. Now, whether he filmed this before he shot himself in the face or whether he faked his death and filmed it after remains to be seen. But regardless, there's some sort of evil mastermind work (probably against Sherlock) that's going on here. I wouldn't be surprised if Moriarty is dead, but planned a huge attack against Sherlock and his crew before his death that Toby Jones' character is working to fulfill. In the teaser, Jones says, "we are going to have endless fun, aren't we?" and doesn't that just sound like something akin to the sort of fun Moriarty would enjoy?
The short clip does a great job showcasing all of the action that's going to go down in Sherlock from a giant explosion to Mrs. Hudson calling someone a "reptile" to the text, "Everything they know will be tested. Everyone they know is under threat." And while it definitely seems from what we can see that Moriarty is going to have a part in this action, we'll just have to wait until the series shows up on PBS sometime in 2017 to officially find out. In the opening of the teaser, Sherlock says, "Something's coming. Maybe it's Moriarty. Maybe it's not." One has to wonder if Holmes is as hopeful as the rest of us that the "something" that is "coming" is, in fact, Moriarty. Fingers crossed.
Images: Masterpiece PBS