Meet The Beasts Of 'Fantastic Beasts'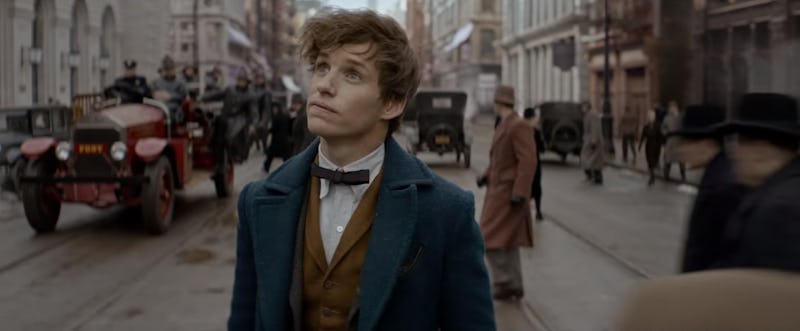 Newt Scamander and his briefcase filled with beasts will be taking over New York City (and theaters everywhere) this fall in Fantastic Beasts and Where To Find Them. The movie is based on Harry Potter author J.K. Rowling's fictional textbook from the Potter universe, and it'll feature Oscar winner Eddie Redmayne stepping into the shoes of Newt. Yet while the book itself is a guide to the supernatural, trailers haven't actually shown any of the beasts in particular — until now. The newest trailer dropped at Comic Con on Saturday, and if you're wondering what the beasts are in Fantastic Beasts and Where To Find Them , this latest clip introduces a whole bunch.
The trailer features too many beasts to name, but they definitely include Thunderbirds, Demiguise, and Occamy, according to the Pottermore's Twitter. You'll have to catch them all for yourself when you watch the film, which opens in theaters on Nov. 18. The movie also stars Colin Farrell, Katherine Waterston, and Dan Fogel in a story that follows Newt in 1920s New York City, many years before Harry Potter and the gang enroll at Hogwarts and use his textbook in class. Newt travels to the Big Apple for a magic conference with a suitcase filled with magical (and dangerous) beings, who then escape and wreak havoc on the city. Newt then sets off on a quest to find them all and try to preserve the strained relationship between the magical, wizarding world and the "No-Maj" muggle world. See if you can catch sight of some of the many beasts Newt encounters in the new trailer, below:
Here's what you can tell so far about the beasts featured in the movie.
Billywig
According to Pottermore, this little blue insect packs a big sting, which causes levitation and giddiness. The Billywig spins as it flies in the air and when dead and dried, it can be used in potions.
Occamy
Pottermore describes this creature as having two legs, two wings, and a "serpentine body."
Demiguise
Peaceful beasts exist in the Fantastic Beasts world, too. According to Pottermore, the Demiguise is an "ape-like herbivore" who turns invisible when danger is around, which is basically what we would all like to do when times get tough, right?
Thunderbirds
How would a flying beast cause some mayhem? Well, Pottermore says that Thunderbirds create storms as they fly, making the weather even more unpredictable than it was before.
House-elf
You know Dobby, who worked for the Malfoy family and at Hogwarts, right? Well, this beast isn't him, but house-elves even exist at the Magical Congress of the United States of America (MACUSA for short), according to Pottermore.
Whatever Beast Did This
Farrell's Percival Graves does not look happy with the beast responsible for this.
There are sure to be even more beasts in the full film of Fantastic Beasts and Where to Find Them and it'll be exciting for fans to meet them all in November.
Images: Warner Bros. Pictures; Warner Bros. Pictures/Mallory Carra/Bustle