The New 'MADtv' Should Feel Familiar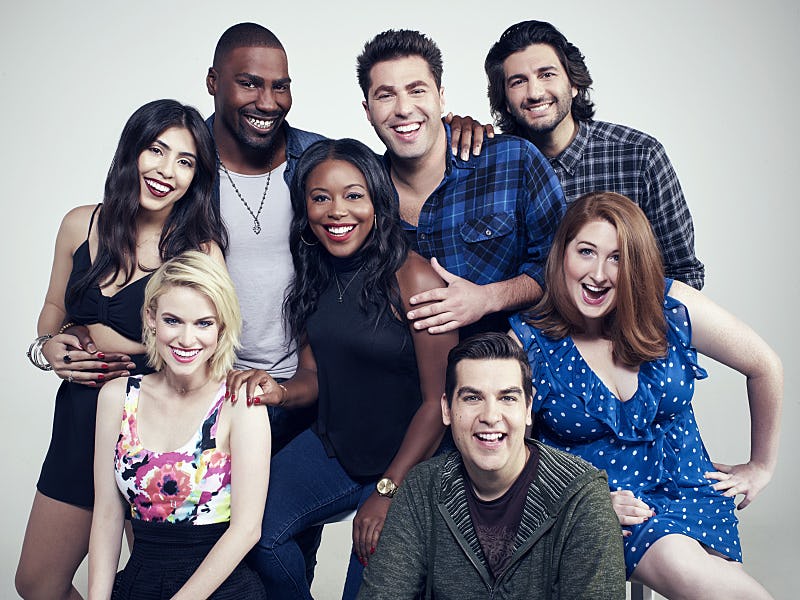 When I first heard the news in April that The CW would be rebooting MADtv , I was simultaneously delighted and worried. I was elated that the irreverent and bizarre sketch comedy show, which originally aired from 1995 to 2009 on FOX, would be back in my life but concerned that it wouldn't be able to deliver the same laughs as the original. However, once I started looking at how the new MADtv is different from the original, my reservations about it quickly went away.
Of course, we'll really find out how similar the new MADtv will be to its first series once it premieres on Tuesday, July 26 at 9 p.m. ET on The CW. And I don't think I'll be the only fan watching with a critical eye to see if it's able to capture the same magic of the original. Whether you're like me and watched MADtv during your younger years back when it was on FOX or discovered its hilarious sketches in recent years on YouTube, fans of the original MADtv are out there, and they're looking for this revival to live up to the hilarious standards set by its first incarnation.
But by that same token, a lot has changed in the world since the original MADtv went off the air in 2009, and if this new series didn't adapt to how our attitudes about what is and isn't funny have changed today, that wouldn't do us much good, now would it? Luckily, it looks like this reboot has struck the perfect balance between giving longtime fans of the series what they want and attracting a new generation of MADtv lovers.
The Network
As I previously mentioned, MADtv has moved from airing on FOX to The CW. What network a TV show airs on can mean much more than just where viewers can find it. FOX has long had a reputation for being an edgier, more experimental network, at least compared to the older, more established ABC, CBS, and NBC. That's something the original MADtv definitely reflected in its grittier and offbeat brand of sketch comedy.
Now that the new MADtv will air on The CW, whose programming targets a younger audience, will it still be able to have the same no-holds-barred approach to comedy? Well, original cast member Nicole Sullivan recently told USA Today that the new version is "absolutely in keeping with what we were doing originally. I think what we did better than a lot of other shows have done is political incorrectness — not Trump's version of it — about celebrities, politics, social media, pop culture in general, saying all the stuff no one else is willing to say." Let's not forget that contemporary series like Crazy Ex-Girlfriend show that The CW knows how to get weird, too. So I guess we don't have to worry about this network change impacting the content of the show much, after all.
The Time Slot
However, The CW is also switching things up when it comes to the time slot in which MADtv will air. Instead of being a part of FOX's late-night lineup on Saturdays, as the series was during its original run, it will air in primetime on Tuesdays at 9 p.m. ET on The CW. Due to this move, there's now more restrictions on what MADtv will be able to air since indecent and profane content isn't allowed on broadcast TV between 6 a.m. and 10 p.m., according to the FCC's decency guidelines. That means the show might have to hold back when it comes to things like sexual content and foul language. But then again, The CW has pushed the envelope with shows like Gossip Girl and Crazy Ex-Girlfriend in the past, so maybe the network's Standards and Practices department will ease up on MADtv, too.
The Showrunner
At least we know that David Salzman is returning as executive producer and showrunner of the new MADtv. "We will continue to present the hard-hitting, laugh-out-loud, wall-to-wall pop culture parody our fans expect, but in a fresh, new way," Salzman said in a statement when the new MADtv series was announced in April, according to The Hollywood Reporter. Having the same person at the helm of the reboot ups the chances of getting another successful installment of MADtv.
The Format
Like the original MADtv series, the new version will be a one-hour show featuring sketches filmed in front of a studio audience as well as non-studio segments, USA Today reports. This should really help the new show capture the essence of the original.
The Cast
The new MADtv is starting fresh as far as its cast is concerned. These performers have solid comedy chops but who haven't conquered the comedy world just yet and will include Carlie Craig, Chelsea Davison, Jeremy D. Howard, Amir K, Lyric Lewis, Piotr Michael, Michelle Ortiz, and Adam Ray.
However, in announcing MADtv's return in April, The CW also revealed that former cast members would return to host episodes. So far, Sullivan, Will Sasso, and Bobby Lee have been confirmed to appear on the new MADtv, according to Entertainment Weekly. I can't wait to see what other favorites from the original show make a triumphant return.
The Material
The technological advances made since MADtv first hit the air, such as the sophistication and proliferation of the Internet and social media, have increased the amount of things that are a part of pop culture considerably and have also increased pop culture's turnover. This is something the new series will reflect. "I think this will be a little faster-paced," Salzman recently told USA Today. "The range of pop culture targets for parody is much wider."
But as with the original MADtv series, I don't expect any topic to be off-limits for lampooning.
Images: Tommy Garcia/The CW; Giphy (6)