I Tried Kylie Jenner's Secret To Great Eyebrows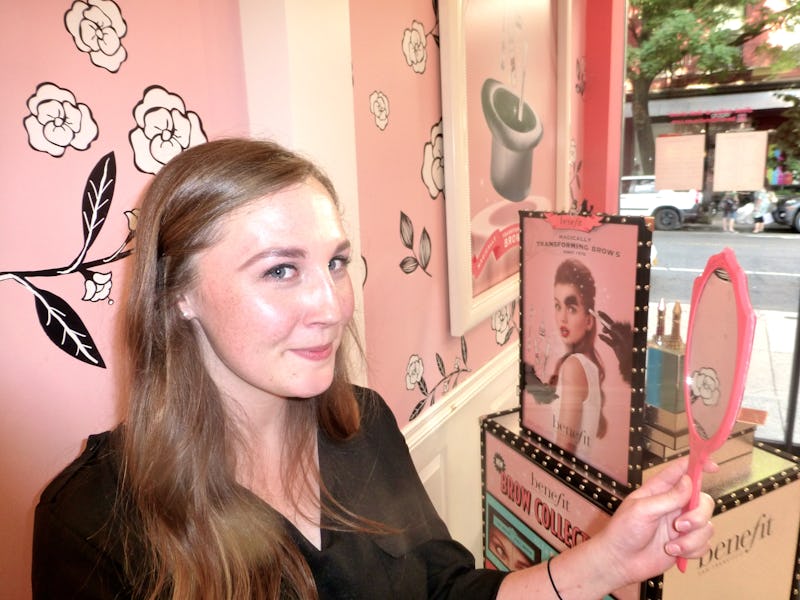 If you follow the beauty world at all, you know that eyebrows are having a moment. It seems like every beauty company is coming out with new eyebrow products, and celebrities like Cara Delevingne and Kylie Jenner are making waves for their bold brows. So when Kylie Jenner said the secret to her great brows was tinting, I had to try it out and see what eyebrow tinting was all about. And my verdict? I think I'm hooked.
I have light, sparse eyebrows that have stayed blonde despite the fact that my childhood blonde hair has slowly darkened to light brown. I'm the queen of eyebrow gel and rely on that product every day to darken my brows and make them look more put together, but when I found out there could be a semi-permanent solution (brow tinting lasts about four weeks), I had to try it out.
I hit up the experts at the Benefit store in New York to try out brow tinting, and I think it might be my new favorite beauty treatment. And I'm not the only one — brow tinting is only growing in popularity as more and more people realize the transformative power brows have on the face. "Over the past five years, brows have been getting their much deserved moment in the sun," Jared Bailey, Benefit's Global Brow Expert, says. "Women all over the world are really starting to realize the transformative power they have, not only on the eyes, but their entire face. In fact, having your brows waxed or tinted is no longer a "trendy" thing to do, but a fundamental one."
Bailey's words totally ring true with me, because my brows felt completely transformed after my quick brow shaping and tinting appointment at Benefit. My brows were not only darker, they were better shaped. Here's how the process worked.
Before
My (completely) untamed brows are naturally pretty full, but as you can see in this photo, they're super light. My aesthetician at Benefit, Zyra, told me that my right brow was more bleached than my left, so she tinted that one first so that it had a little more time with the dye on it.
During
We started out by tinting my brows with Benefit's custom vegetable-based dye. They mix a different solution for every person, so your brows will be custom tinted depending on your hair color.
The next step was brow shaping. Zyra mainly wanted by brow shapes to match, so she did a quick, relatively painless wax on them. Despite the hint of redness, my brows felt much better shaped afterwards.
After
After my brow tinting and shaping was complete, it was time to fill in and complete my brows. I've long been a fan of Benefit's brow products, and the ones we used on my brows just proved to me again how awesome they were. Here's what went into my completed look.
Goof Proof Eyebrow Pencil, $24, Sephora
The Goof Proof eyebrow pencil has an awesome angled shape, so it can be used to make thin or slightly thicker strokes. And the brush on the end of the pencil perfect combs your brows.
Gimme Brow Eyebrow Volumizing Gel, $24, Sephora
Gimme Brow is one of my long-time favorite brow products, and it's always my favorite if you want shaped, groomed brows in one step. Used after the Goof Proof pencil, it gave my brows some extra definition.
High Brow Eyebrow Highlighter, $22, Sephora
I love the look of a highlighter under my brow bone for special occasions, but this pencil from Benefit is the perfect everyday brow highlighter. It goes on super smoothly and is really easy to blend and use.
My Finished Look
My finished brows were much bolder than I'm used to, but I have to admit — I felt a little bit more like Kylie Jenner with my completed brows, and since when is that a bad thing?
Images: Jessica Thomas; Courtesy of Brand