How Many 'Bachelor' Couples Are Still Together? More Than You'd Expect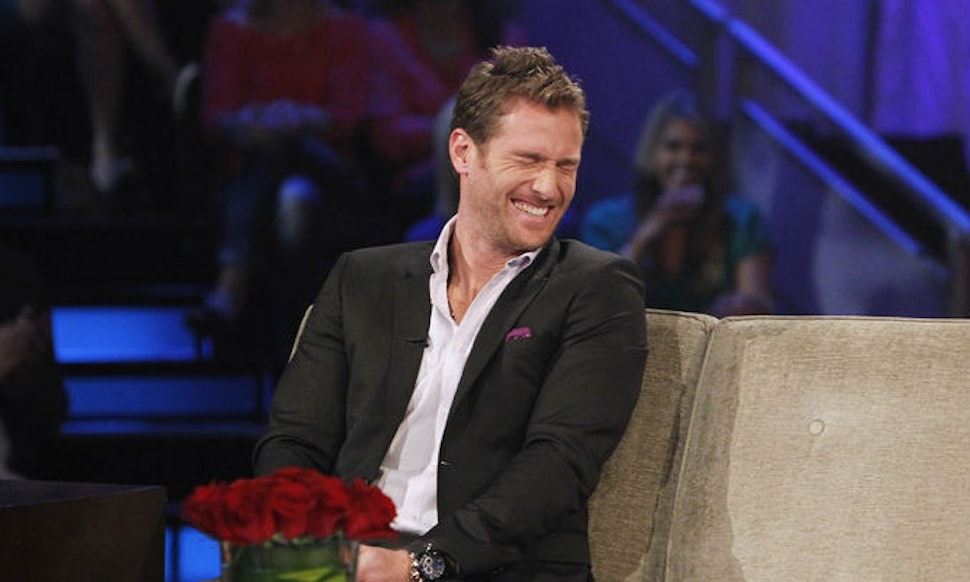 Juan Pablo may be certain, heading into his Bachelor season finale, that it's okay , but more likely than not, his favorite turn of phrase will not be in effect. If we're looking at past Bachelors and Bachelorettes in "love," there's a hell of a lot more emotional carnage than there are happy little love stories with doily hearts and fluttering cartoon bluebirds.
This is the true face of love courtesy of the Bachelor and the Bachelorette, and lucky for Juan Pablo, a happy future is more possible than the old Bachelor break up jokes let on — the odds just aren't exactly in his favor.
In Love: Trista and Ryan
Duh. I'm pretty sure no one would ever join the Bachelor or Bachelorette if it wasn't for this ridiculously happy couple. They are the gold standard and the great white hope of the Love on Television reality genre.
Quick Split: Aaron & Helene
These two gave it the old college try, but couldn't even make it the typical three months for most Bachelor relationships. Instead, just five weeks after the Final Rose, they went back to the real world and on with their real lives.
Smitten: Sean & Catherine
We just saw these two crazy (horny) kids tie the knot on national television and you know how we know it's true love? Catherine just outed Sean for, um, finishing early during their visit to the Women Tell All Special and they're still arm in arm. That is a strong love, my friends.
Dunzo: Bob & Estella
Bob Guiney played it safe when he chose Estella by giving her a promise ring instead of an engagement ring. Either he was a guy in lust playing into the viewers' needs to see a ring, or he is a perma-teenage boy, but it doesn't matter anymore because these two broke up in a mere four weeks after the season finale.
Image: ABC
On Cloud 9: Desiree & Chris
Despite Desiree having her heart broken mere days before "settling" on Chris, these two appear to be going strong. She's moved to Seattle, he writes cute blogs about being in love with her. They're two peas in a pod.
Image: Twitter/DesHartsock
Stick a Fork in 'Em: Travis & Sarah
These two didn't even make it to the After the Final Rose special before they called it quits. You can find fantastical love in TV paradise, but apparently it's kind of like what they say about wine or beer: you're only renting it.
Image: ABC
So Happy: Ashley & JP
Surprise, surprise: Bachelorettes have a better romantic success rate than Bachelors. I'm just going to let that sit with you for a moment while he we smile for these two happy folks in love. They're so cute, we can't even fault them for having a wildly public wedding.
Undone: Jason & Melissa
The thing about dating 25 women at once is that it makes your head kind of cloudy. No one knows that better than Jason Mesnick, who dumped Melissa Rycroft immediately after the Final Rose special because he'd fallen back in love with Molly, his future wife. Ouch.
Image: ABC
Redone: Jason & Molly
After Jason told Melissa Rycroft he'd fallen back in love with Molly Malaney, the two soon walked down the aisle and now, they have a beautiful baby girl together. So you really can find love on The Bachelor, you just have to hope love wants you after you accidentally reject it.
Over and Out: Jen & Jerry
Yes, we're aware that's Chris Harrison next to good ol' Jen. But her Bachelorette romance with Jerry Harris was so brief, it ended on the After the Final Rose special. So much for photo evidence, eh?