16 Miranda Outfits We Loved More Than Lizzie's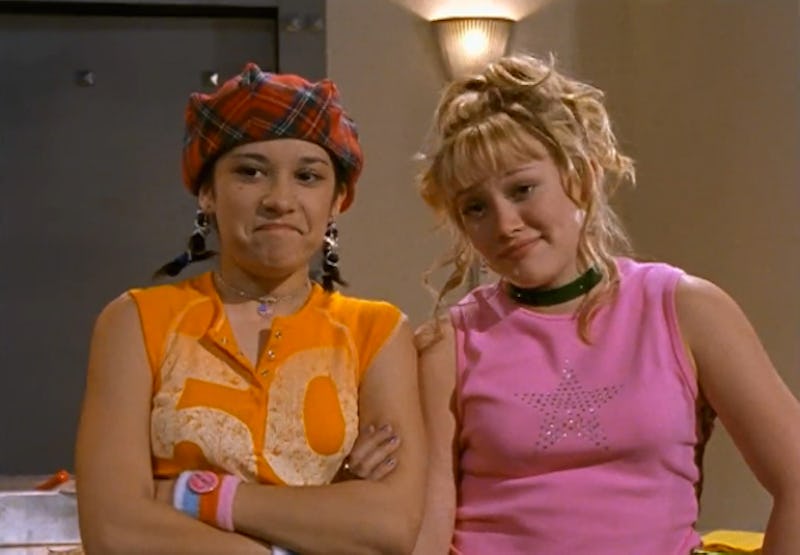 We learned a lot from watching Lizzie McGuire, especially how to be the most fashionable middle schoolers to ever strut through the halls. But we were so used to drooling over Lizzie's outfits that we often ignored her super-stylish bestie. Miranda's outfits were actually better than Lizzie's most of the time, though. Yep, you read that correctly: Duff wasn't always the best-dressed.
As much as we loved Miranda for her loyalty and tell-it-like-it-is attitude, we tend to give her the Kelly Rowland treatment. You know, that whole not realizing how great she truly is because we eat, sleep, and breathe Beyoncé.
The same can be said of Miranda and Lizzie. We once focused so much on what Lizzie was rocking that we overlooked some of Miranda's greatest sartorial moments. We should have been taking a few notes out of her style guide, though, rather than trying so hard to recreate Lizzie McGuire's looks.
Miranda's aesthetic was loud and proud in all the right ways. She's still the stuff Disney Channel "it girls" are made of, even if she's a super-underrated sidekick. If we hadn't been so busy having Lizzie tunnel vision, we would have realized that these 16 Miranda Sanchez outfits were so much more worthy of the spotlight.
1. When She Wore Pink Pom-Poms In Her Hair
Lizzie's cute, little flower clip needed to move over, because there was a new fab hair accessory in town, and it was Miranda's pom-poms. Anything pink and fuzzy will always take the crown. ALWAYS.
2. When She Rocked A Metallic Union Jack Tee
Miranda and Lizzie must have hatched a plan to wear the shiniest shirts they could find. But Miranda's metallic Union Jack flag top was definitely winning over Lizzie's lime green tank. It gave off some major Spice Girl vibes.
3. When Her Faux Leather Coat Had A Fur Trim
Get it girl! I see you looking effortlessly cool in faux leather and fur. Only Miranda could make the odd combination look so good.
4. When She Wore This Grungy Outfit
Miranda and Lizzie were practically twinning with their graphic tanks and colored hair streaks. Miranda just did the look better by adding a little more edge. The spiky hair is undoubtedly helping win me over.
5. When Her Tee Was A Word Search Puzzle
That strange face on Lizzie's shirt was just not doing it for me. Miranda's tee, on the other hand, was pretty original. And for that, 'Randa still takes the gold in this outfit showdown. She was also wearing a bedazzled choker. That, my friends, is how you truly do early '00s fashion right.
6. When She Rocked Double Denim
Double denim was a way of life in the early 2000s. When Miranda broke out her jeans and the vest to match, she showed Lizzie's outfit up (no shade, though, we all loved a good bandana back then).
Notice that she was also rocking a studded belt. That accessory alone could have solidified her place as a teenage fashionista.
7. When She Slayed In Plaid Pants
The "Best Dressed" episode may have been all about Lizzie trying to win that coveted yearbook superlative, but it was Miranda who pulled off the impossible. She managed to make plaid pants look cool, like only someone of her quirky caliber ever could. While most of us wouldn't have dared try on plaid bottoms, Miranda made them work effortlessly.
8. When She Wore Camo From Head-To-Toe
Miranda covered her body in camo and it somehow wasn't overkill. Anyone who complements camo with even more camo and makes it look so darn fabulous gets my stamp of approval. I mean, wearing a camo vest and headband together is one thing. Adding camo pants into the mix was risky! But this monochrome ensemble served Miranda well in the end.
9. When She Wore That Jersey Tank & Newsboy Cap
Limited Too was the mothership for Millennial girls during our tweendom. This faux jersey Miranda sported looked like it belonged there, and thus, in our own closets. Lizzie's choker was enough to make her outfit a worthy opponent, but Miranda's look still comes out on top here.
10. When She Wore That "Rebel" Top
Here she was back at it again with the plaid pants. Let me reiterate how hard it is to rock plaid pants without looking kind of tacky. Lizzie's basic, red cross top and coordinating pants were a little too basic to compete.
11. When She Wore A Cropped Tank & Button-Front Skirt
How does one slay two different fashionable decades at the same time, you ask? Let Miranda show you how it's done. She once paired a cropped tank with a button-front skirt, bringing the best of '90s and '70s fashion together.
12. When She Repped London With An Up-do To Match
Miranda has already proven that you can never be too matchy-matchy. She looked even more killer when she wore a Union Jack headband and shirt.
13. When She Layered A Zipper-Front Camo Tank Dress Over A Long-Sleeved Shirt
Ow, ow! Who was this girl? Miranda gave her camo a sexy makeover when she traded in those baggy cargo pants for a form-fitting zipper-front dress. And just to keep things snazzy, she rocked a long-sleeved, red shirt underneath it. The combo was daring, but definitely worth it.
14. When She Wore A Union Jack Sheer-Sleeved Shirt With A Studded Belt
By now, it's no secret that Miranda had a thing for Union Jacks. Her sheer sleeves were enough to make her BFF's outfit look silly. I'd take her Avril Lavigne-worthy studded belt over Lizzie's red cross one any day.
15. When She Sported Fishnet Sleeves & A Chain Belt With Charms
Yet again, Miranda showed Lizzie how it was done when she got glammed up. You just can't compete with fishnet sleeves and a matching red choker.
16. When She Got Festive For Christmas
Don't get me wrong: Lizzie looked great! It doesn't get more Britney Spears than her cropped shirt and metallic hot pants. But Miranda's crushed velvet turtleneck is still giving me life! The red skirt and matching leggings were definitely a little Xenon: Girl Of The 21st Century, but they just looked so stellar.
Our love for Lizzie McGuire runs deep. After all, she shaped our sense of style as young teens, one rhinestoned headband at a time. But to idolize her as the best-dressed '00s Disney Channel star is absurd when someone as badass as Miranda was around.
If there was anyone we should have imitated, it should have been her: A pom-pom headband-wearing, camo-obsessed, Union Jack fanatic who lived by her own rules.
Images: Disney Channel Original Series (16)