4 Natural Ways To Speed Up The Healing Of Sunburns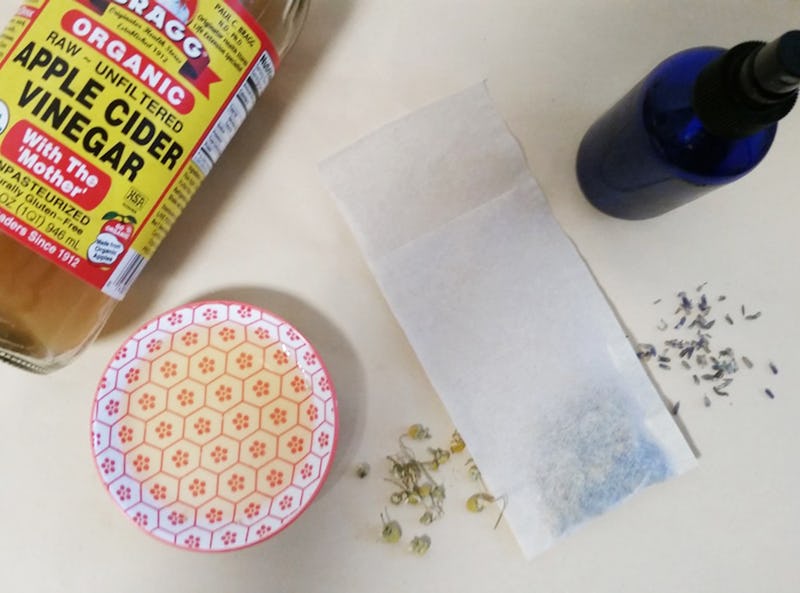 While it's not something I think about on a daily basis, plenty of my friends have forgotten to wear SPF and then come running to me for natural sunburn relief recipes. Lucky for them, I have plenty of these soothing potions up my sleeves.
In my experience, one of the most common reasons for bad burns is falling asleep at the beach after you watch the sun come up with someone special. It's always a romantic, fun idea, but chances are you are tired AF and possibly a little drunk making it incredibly easy to snooze while the harmful rays beam down upon you. When my pal woke up in the middle of the day, she was immediately experienced the burnt, painful skin that would soon be oozing of any memory of romance. Luckily, she wasn't too ashamed of toasted skin to reach out and demand a natural remedy to support the healing process of a bad sunburn.
The sun has amazing health benefits, but too much of it can be as damaging to the skin. The UVA and UVB rays can easily burn the skin, and depending on your skin type and the duration of time spent in the sun, it could get serious. While natural remedies can heal the surface of the skin and temporarily soothe the burning sensation, the sun's harmful rays can also cause permanent damage you can't see. Therefore, consulting a doctor after a bad burn is always a good move.
This month has seen a rise in the need for natural sunburn remedies and I wouldn't be doing my part if I didn't share these four natural remedies for those nasty burns. Happy healing!
1. Raw Honey, Chamomile, & Elderberry Exfoliate
Raw honey can support the natural healing process of the body in many ways, but it specifically works as a natural antibiotic for sunburns, according to Dr. Andrew Weil, M.D. and other natural beauty proponents. The soothing properties are great for reducing the itching sensation of a sunburn. Chamomile and elderberry are amazing healing flowers that make great additions to your exfoliant. I like to mix two ounces of organic, raw honey with a combined tablespoon of organic, dried chamomile and elderberry flowers. Sift through the flowers getting mostly powder before adding to the honey. I mixed my ingredients directly in a storable container and whipped it around with clean fingers. Massage your mask gently on your face to avoid irritation the sensitive area. This mask works great during the peeling phase, but don't apply it directly to any open wounds.
2. Coconut Oil & Aloe Rub
Most of us are familiar with aloe vera's ability to relieve a sunburn. My method is to always extract directly from the leaf (since aloe has a limited shelf-life, there are likely additional ingredients in store-bought brands). Use a cup of aloe vera to two tablespoons of organic, raw coconut oil. Coconut oil will moisturize the drying skin and the aloe contains vitamin E and water; hydrating remedies are great for restoring your skin's moisture after a sunburn.
3. Healing Body Salve
I whipped up this healing body salve for a burned friend of mine who was suffering from damaged, itchy skin. I melted down about a tablespoon of beeswax in a double boiler, then added half a cup of mango butter and a combined half-cup of sesame and coconut oil. I then mixed my ingredients in a blender (adding the beeswax last) and added about a tablespoon of filtered water. After I transferred my cream into a sealable container, I added my essential oils: eight drops of lavender essential oil, two drops of eucalyptus essential oil, and eight drops of helichrysum.
I picked these ingredients particularly for a cream for sunburns. Helichrysum has potent healing properties for the skin, lavender essential oil is well-known to support the healing of sunburns, and eucalyptus is great for burns. The mango butter contains vitamins A, C, and E while containing UV protection. Beeswax helps the consistency of the cream, but also helps alleviate dryness and blistering.
4. Cooling Mist
This cooling mist is excellent for temporary relief of blistering, painful burns. For another pal that fell victim to the sun's rays, I combined chamomile and lavender tea with apple cider vinegar. It sounds counterintuitive, but apple cider vinegar is actually incredibly soothing for sunburns as long as you dilute it down. The ACV takes the heat away from the blisters and the combination keeps the area clean, an important factor in avoiding infection in any type of wound. I used a tablespoon of chamomile flowers, two teaspoons of lavender into a loose leaf teabag. Boil filtered water and wait for the tea to steep for three to five minutes. Allow your tea to cool completely before adding to a spray bottle. Next, add a third of a cup of organic apple cider vinegar. Use liberally on affected areas a few times a day.
While only time can truly heal a sunburn, these treatments should give you a little relief. And next time, I know you won't forget that SPF!
Image: Kristin Collins Jackson (4)