'Below Deck' Season 4 Will Premiere Soon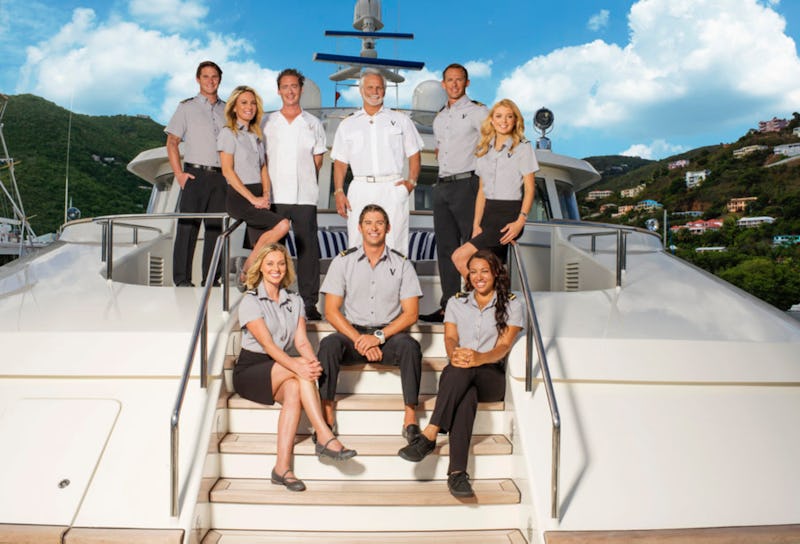 Count your lucky poop decks, Below Deck fans, because Captain Lee and company will be back on the small screen in less than two months' time (and less than two months after the Below Deck Mediterranean season finale!). (Real talk: I hope Below Deck eventually becomes a year-round franchise one day, à la The Real Housewives. Gimme that luxury yacht crew drama 52 weeks a year, please and thank you.) Here are three cool deets, my fellow Deck Heads: Below Deck Season 4 will premiere on Sept. 6 (yessss), there's a trailer (YESSSSS), and the upcoming episodes look about as delicious as one of Chef Ben's entrées, er, mains (YESSSSSSS).
When I say the first look at the new batch of episodes is two minutes and 15 seconds of pure, unadulterated yachtie goodness, I mean it. The Season 4 preview not only reunites Below Deck fans with series veterans Captain Lee Rosbach, Ben Robinson (aka the King of the Below Deck Universe), Kate Chastain, and Kelley Johnson, but also introduces viewers to franchise newcomers Trevor Walker, Nico Scholly, Lauren Burchell, Emily Warburton-Adams, Sierra Storm, and Valor the Yacht. There's fighting! There's flirting! There are flower arrangements! There are f-bombs (g'bless Captain Lee)! Oh, and there's a psychic, too? Well, if this season hasn't already hopped onto a tender headed straight for the yacht that is my heart!
I have a lot of questions for this exquisite preview, but none burn hotter than my inquiry regarding a certain four-legged charter guest: Wait, are we really going to be subjected to a well-dressed poodle retching up a mustardy substance on camera?
No offense to that poor pup (motion sickness happens to the best of us), but that's nast-sea.
Image: Virginia Sherwood/Bravo