Chase Was Very Mature On 'The Bachelorette'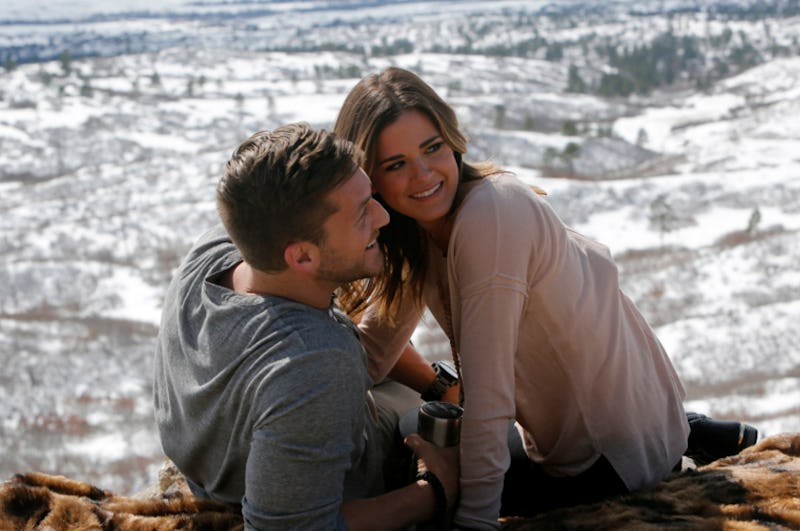 Relationships often crash and burn on The Bachelorette, but it's rare that those relationships actually end up better for it — until now. After two awesome fantasy suite dates with Jordan and Robby, JoJo realized that she had to send Chase home... and unfortunately, she realized it mid-date and after Chase had just finished telling her he's in love with her. The aftermath wasn't pretty and involved a lot of emotions from both parties. But after their blowout argument, Chase returned to apologize to JoJo, and it was actually a really mature moment.
It didn't start out that way... at least, not as someone watching from the couch. During the rose ceremony, Chase suddenly appeared, surprising everyone. It seemed like he was going to try to make a last ditch effort to win her heart, but that's totally not what happened. Instead, he took JoJo aside and issued an apology for the way he acted earlier, which he owed JoJo, since he had totally lashed out at her for telling him how she felt after giving him the key to the fantasy suite. After being pretty disappointed seeing that argument go down, in my mind, Chase has officially redeemed himself, and I'm pretty impressed with the way he handled things at the rose ceremony.
On a show that usually revolves at least a little bit of scheming, it was refreshing to see such a show of maturity from Chase. After the way they left things, it was good that JoJo and Chase were able to repair their friendship, even if it won't go any further than just that. Is this a victory for the Bachelorette moral compass? After the constant drama all season long, it might be!
Image: Alex Larkey/ABC