What To Watch If You Don't Enjoy Adult Films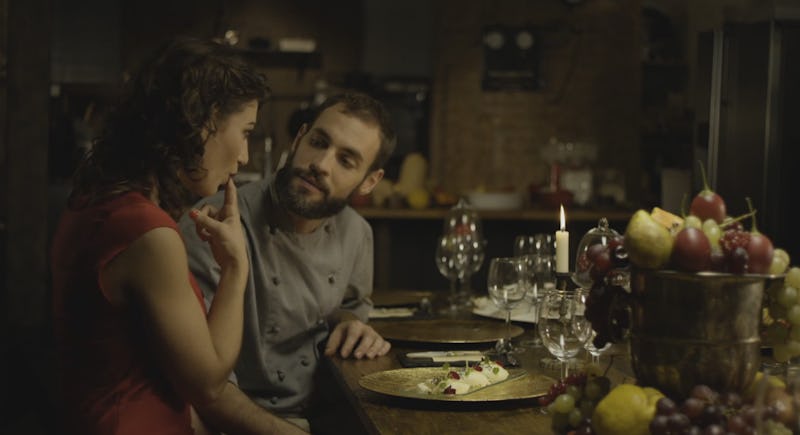 Confession: I don't watch porn. That's not to say I've never watched porn — I am a 29-year-old human in 2016, after all — but just that I don't watch it regularly. To be honest, I've always been more drawn to erotica versus pornographic videos when it comes to things that knock my socks off and get my rocks off. I think that's probably due to two things: 1) I wasn't allowed to watch much TV as a kid but my mom would buy as many books as I wanted, which turned me into a voracious reader, and 2) I'm a feminist.
Let's talk about number two for a second. Being a feminist doesn't preclude me from liking and watching porn — I am, after all, a sex-positive feminist, which means that I'm down for however people want to get off, as long as it's consensual and isn't hurting anyone. But as a feminist, I do find it hard to watch a lot of porn that's freely available online. I can't seem to shut off the analytical part of my brain and I get distracted by the terrible plot lines, gaping buttholes, and weirdly manipulated female bodies. And that's kind of a bummer because, frankly, sometimes I'd like a little visual erotic stimulation!
So when I stumbled across feminist pornographer Erika Lust's work, I couldn't believe how hot it was. The very first thing I watched was the SFW (mostly — like, I'd make sure no one can see your screen if you're going to watch it at work) short film she did called Do You Find My Feet Suckable. Most of the film doesn't involve any sex at all but rather a lot of loaded, hot, sexy looks between a man and a woman who I'd totally have dirty thoughts about if I met them IRL. I found myself literally holding my breath in anticipation the first time I watched it and it made me hungry for more of Erika's work.
I reached out to Lust to see what other films she'd recommend for people — like me — who think that they don't like porn. These are her top nine recommendations.
1. For Starters: Do You Find My Feet Suckable
"A guy who desires a girl, a girl who wants to be desired. Sexual chemistry within context, narrative, and eroticism, and fetish that's free from all misogynistic connotations. In this special SFW, all without the explicit sex!"
Short film (NFSW)
2. If You Like It Light And Easy: Boat Buddies With Benefits
"Someone once said, 'There's only a certain number of ways for you to film sex.' That person clearly never watched XConfessions' films! We do these crazy things like filming a fun sex story in the middle of the Mediterranean. Welcome on board!"
Short film (NSFW)
3. If You're Into Good Wine, Good Food, And Good Sex: Eat With Me
"Dolly Parton once stated, 'My weaknesses have always been food and men, in that order.' Press play on this and if you think this is like anything you've seen before, I'll go on hunger-strike for a week."
Short film (NSFW)
4. If You Want Smart Narratives: Une Nuit Sans Fin
"Directed by Ovidie, this feature film has everything you would expect from a Hollywood film: an interesting story, catchy characters, a well thought drama. But instead of cutting black when things get hot, you get to see the full action!"
Feature Film
5. If You Felt 50 Shades of Grey Didn't Reach Expectations: The Submission of Emma Marx
"Perfect to start your journey through spouses, whips, and light BDSM, without the f*cked-up misogynistic take from E. L. James' character. Directed by amazing Jackie St. James, who "writes and directs sex flicks while listening to Taylor Swift."
Feature Film (NSFW)
6. If You Listen To Indie Music: Female Fantasy
"Remember that feeling of being at the bus stop, staring at the super cute boy next to you? Remember what you feel like doing while looking at him? Yes, exactly."
Feature film (NSFW)
7. If Your Marriage Needs Some Spicing: Second Chances
"Again, Jackie St. James! And again, directing a film that's perfect to be watched when lying in bed right next to your husband. It has narrative, drama, good photography and lots of relatable sex. The best part? It's OK if you don't watch it until the end."
Feature film (NSFW)
8. If You're Trying To Find Your Tone: Life Love Lust
"Three interpretations of sex: as part of life, as the result of love, and as an act of pure lust. Recommendable if you're figuring out what turns you on. Directed by moi."
Feature film (NSFW)
9. If You'd Rather Not Relate: A Night in Japan
"There are women who rather watch characters living completely different lives, un-relatable from their own. This artsy film has fantasy, fetish, mystique and adventure, and it's very pretty to look at."
Feature Film (NSFW)
Images: Screengrabs