15 Women Share What They Get Off To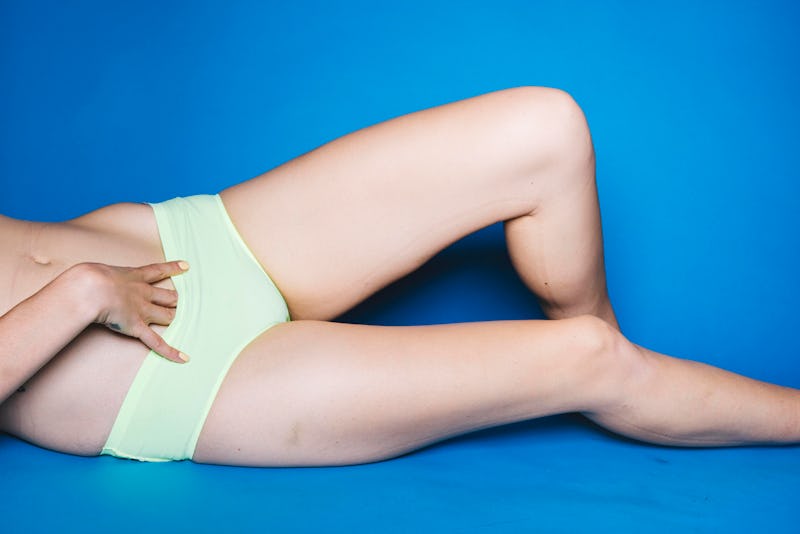 While women's masturbation habits may not be a common topic of conversation among female friends, it certainly should be. In 2008, the Gossard Big M Survey interviewed 1,000 women aged 18-30, and 92 percent of them reported that they are regular self-pleasurers, with two-thirds doing it as regularly as two to three times per week. It's insanely good for us. It makes us happier, relieves stress, and helps us learn what we like and don't like, to name a few things. Pleasuring yourself has also been proven to lead to lead to better orgasms.
But finding the right material to get you in the mood can prove to be a challenge. It's no secret that most porn isn't geared toward the female audience, with lots of jackhammering, facial shots, fake boobs, and bizarre scenarios.
So if mainstream porn isn't helping us reach orgasm, then what are women masturbating to? I asked 15 women to give me the details on the fantasies, websites, memories, and other material they use when they're getting down. Here's what they had to say about their masturbation habits. But first, check out our video on sex positions to last longer in bed:
1. Jennifer, 29
Ryan Phillippe in Cruel Intentions. It was the first movieI ever fingered myself watching, and I still break out that movie get off to today. It's eternally in my queue.
2. Tiffany, 24
I used to be a huge fan of trolling #EggplantFriday (and the other days of the week) on Instagram to get myself off, but now that Instagram has tightened up on keeping porn off the app, I usually use Tumblr to get my kicks. You never know what weird stuff you're going to find.
3. Laura, 27
I have this video saved that I came across when I was looking for porn to masturbate to. It's a guy alone on the beach who starts grabbing his hard-on through his bathing suit, then finally takes it out and jerks off super hard. Touching myself while I'm watching it makes me come every time.
4. Tori, 24
When I was in high school, I lived next to a family who had a teenage son who was a few years older than me. His bedroom window faced mine, and occasionally I'd see him jerking off across the way. On some nights, I'd lay down and pretend to be sleeping while watching him, but I'd be masturbating under my covers. Sometimes I still get off to that memory.
5. Kayla, 29
There's a site called Sounds of Pleasure that's my go-to. It's a bunch of different soundtracks of people having sex and masturbating. I love it because I can imagine whatever scenario I want to think up, and the noise really brings it to life.
6. Samantha, 25
I'm ashamed to say I still frequently get off to memories of my ex. He loved having sex in public just as much as I did, and we f*cked in some of the most insane places. Taxi cabs were our favorite. I think about him exploding in my mouth while simultaneously trying to keep his orgasm quiet so that the driver wouldn't know what we were doing.
7. Kara, 23
"Earned It" by The Weeknd. I think about some hot guy slowly going down on me in rhythm with this song, and I'm done.
8. Monica, 24
Whenever my boyfriend gets hard in public, he sends me a picture of it and says 'Thinking of you.' When he's not around, I use those pictures — and the dirty conversations we have after he sends them — to masturbate.
9. Laurie, 26
My boyfriend and I have made a few videos where we're having sex that have become my go-tos for masturbation material. There's one of us doing it standing up with my legs wrapped around him and pressed up against a wall that's got a great shot of his d*ck going in and out of me that I like. Narcissistic but, whatever.
10. Keisha, 22
Marquis de Sade erotica. If you haven't read him, I recommend you get on it. You'll be hooked.
11. Melissa, 26
I'm completely straight, but there's something about lesbian porn that does it for me. I really like having my nipples played with, but all the hetero porn is full of this super hard "turn my nips like a button" type stuff that I'm not into. Lesbian porn just knows how to go about it the right way.
12. Breanna, 23
I've had a recurring dirty fantasy about Slater from Saved by the Bell that I'll still think about when I'm masturbating from time to time. He picks me up and does me on those tiny school desks and it's everything.
13. Stephanie, 31
There are online forums where guys talk about the first time they ever jerked off that I like to read while masturbating. Reading them describe how they first discovered masturbation and how powerful that first time was makes me horny.
14. Kim, 24
I've been really into anime porn lately. There's something really innocent about it, but still dirty — and I dig the storylines.
15. Susan, 28
There's a scene in the last few episodes of the series Flaked with Will Arnett where he and his love interest spend an afternoon doing all the weird stuff couples do — and getting it on in between. Honestly, it's everything I want right now, and it gets me wet thinking about spending a whole afternoon laughing and banging.
Images: Andrew Zaeh for Bustle, Giphy