JoJo Puts Chad In His Place On 'The Bachelorette'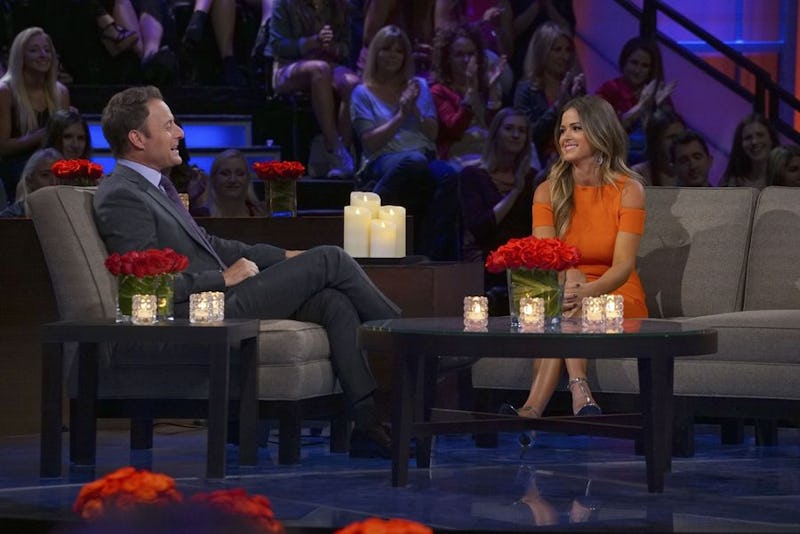 All season long, JoJo's suitors have allowed Chad to get under their skin. Whenever he made a comment, they would respond in full force and continue to make everything all about him. The same can not be said for JoJo, though. During Tuesday night's The Bachelorette: Men Tell All , JoJo called Chad out in the most epic way possible. Shortly after sitting down for the interview, Chad chimed in and said that he wishes her the best of luck with everything, before claiming that Robby broke up with his girlfriend just to be on the show (which Robby has denied on the show) and Jordan's brother doesn't want anything to do with him (when the Rodgers family has kept their issues very private). Basically, Chad was trying to insult the choices she's made and the men she's narrowed it down to in the hopes of enacting an angry response. But JoJo wouldn't give him the satisfaction.
At first, she told Chris Harrison that she could go off right now on his comments, but when he encouraged her to do just that, she opted to take the high road, knowing that this is exactly the kind of thing that Chad wants to have happen. "He's not even worth my breath," she remarked and it was perfect response for him to hear. It even earned her a standing ovation from the rest of her former suitors since they themselves have never been able to resist poking the "Chad Bear." You can watch the moment below.
JoJo has never been afraid to speak her mind and say exactly how she feels. This was just one more shining example of that and the fact that it was directed at Chad — a guy who definitely deserves to be taken down a peg or two — made the moment all the more sweet. We may not all agree with JoJo's final decision during next week's grand finale, but right now in this moment, the world was behind her one hundred percent.
Image: Byron Cohen/ABC