Choosing 'The Bachelor' Is A Complicated Process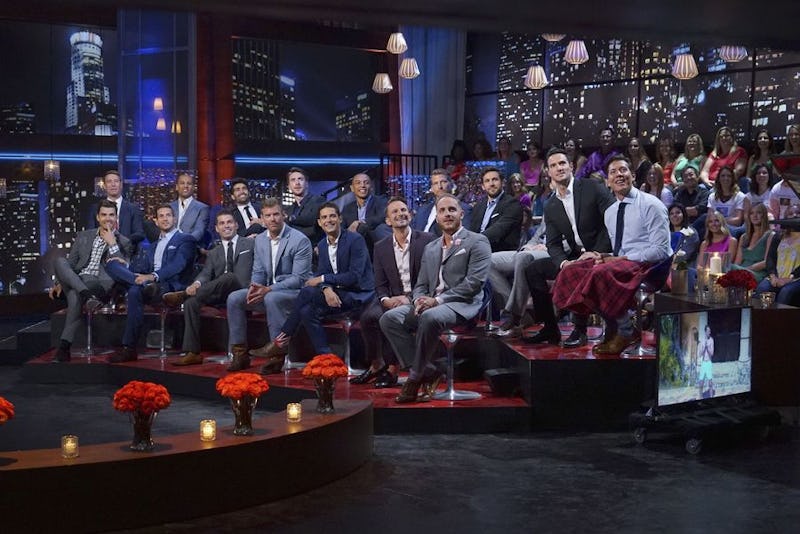 As The Bachelorette Season 12 draws to a close, fans of the addictive reality franchise are anxious to see who will be the 2017 Bachelor . So far, ABC has yet to make an official announcement, though many have speculated that Bachelorette suitors Luke and Chase of JoJo Fletcher's season are strong candidates for the job. But that got me thinking — how is The Bachelor chosen year after year? It turns out that there's actually a method to all of the madness regarding the whole selection process, which is a lot more complicated than you might realize and could very well help us figure out who the next Mr. Right will end up being.
Last year, E! Online interviewed Bachelor producer Alycia Rossiter, who gave some insight into how such a big decision gets made for both The Bachelor and Bachelorette, and it turns out that the person's popularity plays a very significant role. "We always look for fan favorites," she told the site, adding that she even goes so far as to poll fans to gage who they want most. "So if you're looking for fan-favorites, it's really finding out who the world wants and who are potential women who are coming on the show to meet the love of their life."
However, that isn't the only factor they take into consideration. Rossiter insists that the candidate also has to be authentic and really want to be searching for that one true love. "We really want to find someone who honestly wants to get married and start their adult life in a partnership," she explained during the E! interview. "The audience has to love them, but if you love them and I think they're just in it for a rollercoaster ride that's no good for us." So just in case you were wondering whether or not Chad's popularity could nab him the spot, think again. Because as amusing as he is, it seems like he's much more interested in the drama than the romance aspect of the show.
That being said, it's not entirely out of the question for someone to be selected who's had a longstanding relationship with the franchise and has evolved into someone the network (and fans) could really root for. Rossiter cited Jared Haibon as a future possibility, given the "heartthrob" status he's developed over time. So depending upon whether or not Chad plays his cards right, it's possible his time on Bachelor in Paradise could alter our persona of him... but probably not.
The biggest downfall for a potential candidate, though, is if their job doesn't allow them to take so much time off from work to do the show. "It takes a lot of time off from your serious job," Rossiter stated to E!. So even if someone was a top pick, there's always a chance they could decline the opportunity — or perhaps not even be considered — if their job dominates too much of their life.
At the same time, though, even getting the offer doesn't necessarily mean you're in a shoe-in. Look what happened to Caila Quinn, who got offered the post of being the new Bachelorette only to later be edged out by JoJo when her storyline became too captivating to pass up, according to Us Weekly. So depending upon the circumstances, things can change in the blink of an eye.
Taking all of this into consideration, that still leaves Luke and Chase as the main Bachelor frontrunners, if you ask me. Though, given that Chase garnered most of his popularity during Monday night's episode, I think Luke definitely has the better shot at being the next rose distributor. Even at the beginning of the season, host Chris Harrison pointed Luke out as one to watch, saying to Yahoo TV that his play off of JoJo's unicorn mask (by riding in on a horse dressed as a unicorn) was very "clever." Perhaps that was Harrison's way of hinting at Luke's possible Bachelor future.
He was so shocked by his sudden elimination. Maybe ABC will try to help ease his heartache by giving him another chance at love. We'll find out soon enough.
Images: Byron Cohen/ABC; Giphy (3)