Will Stoop Kid Appear In The 'Hey Arnold' Movie?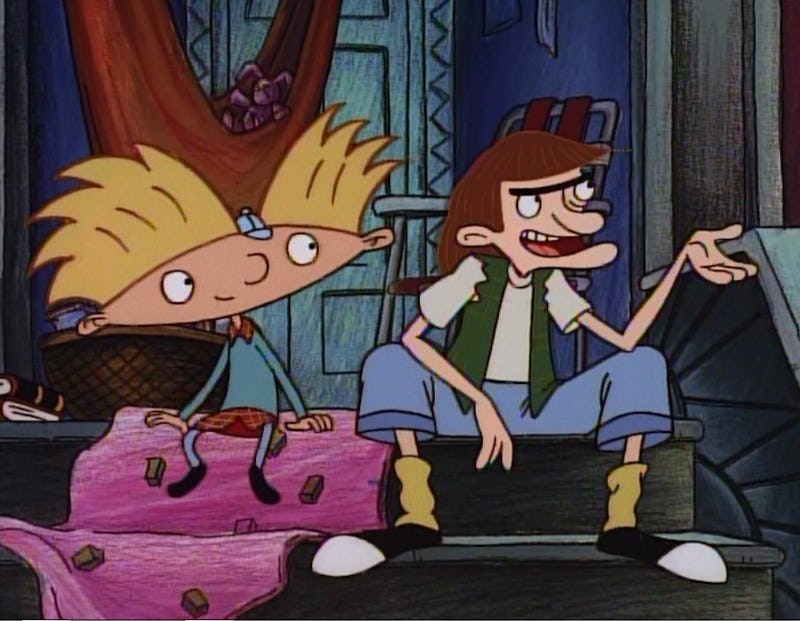 If you're like every sane person on the planet, overly excited about the two part, made for television Hey Arnold! movie and have been keeping on top of all the minor spoilers, you may have heard some pretty intriguing info about minor Hey Arnold! character Stoop Kid. Stoop Kid was never exactly the hugest character on the show; he first appeared in the episode named after him as the protagonist of an urban legend narrated to us by Gerald. He's a classic Bartleby type character — he's unable to function like most people and instead spends his life outside the framework of what's deemed socially acceptable, living on the stoop, hurling abuse at passersby.
That is, until he meets Arnold. Arnold empowers him to get up off the stoop and he sets off in hot pursuit of a bully. Sure, he comes back to the stoop now and again (in the same way you like hanging out in haunts of yore), but he's basically free to leave his stoop. While he appeared in one further Hey Arnold! episode, "Cool Party," that was it and you might have assumed that was the last of a quirky, but ultimately minor character. Not so. In Buzzfeed's interview (see first link above) with Hey Arnold! original creator Craig Bartlett, Bartlett revealed:
Stoop Kid left the stoop — he still, as you know, at the end of the episode he chooses to stay. Once he had the power to leave the stoop, he left when he wanted to. He basically went around the world and sat on some huge stoops. Remember, Arnold showed him a bunch of stoops? He went to the Great Pyramids.
To me, it's pretty crazy that someone like Stoop Kid gets empowered enough not just to leave the stoop, but the continent, when you consider his sad back story. Those of you who have watched the episode may remember that he was abandoned on the stoop as a baby, which is already traumatic enough. This baby raises himself purely via eating apples that fall onto the stoop and, for lack of an obvious person to attach himself to, decides the stoop is family. Arnold inadvertently draws attention to Stoop Kid's unhealthy attachment to an inanimate slab of cement, and kids start verbally abusing him as they go past. So thank goodness this eventually happens:
But this travel aspect of Stoop Kid's character could be key to the upcoming Jungle Movie. As you may already know, the movie centers on Arnold's quest to locate his missing parents. This was partly set up for the audience many years ago in the episode "The Journal," in which Arnold finds his father's diary and it explains how he has been battling a disease in Central America. The episode ended on the ultimate cliffhanger with a map showing his parents' route through San Lorenzo. So, if Stoop Kid has been traveling, and the original creator and executive producer is talking about him now for no clear reason, could it be that Stoop Kid's due to return in the movie?
There are arguably two ways Stoop Kid could return. One would be that the TV movie ignores the episode "The Journal," because, hey, it was years ago and nobody remembers it anyway. In this version, it's Stoop Kid who uncovers a clue while traveling as to where Arnold's parents are and triggers Arnold's globetrotting.
Or possibility two, at the feverish climax of the movie, when Arnold and his parents are all out of luck, surrounded by poisonous snakes or what-have-you, Stoop Kid bursts onto the scene and saves the lot of them. And why not? As we saw in his introductory episode, he's capable of more bravery than he could have possibly imagined at the outset.
It would be a seriously clever trick on the part of the filmmakers if Stoop Kid was pivotal to the action: it would be a fun winky moment for long-term fans, while useful for the heavy lifting of structuring a plot taking Arnold from Hillwood to a jungle for newbies. Something for everyone. So here's one seriously stoop-id viewer hoping Stoop Kid will be back and bigger than ever.
Images: Nickolodeon (2); Giphy