What Will The New 'Hey Arnold' Movie Be About?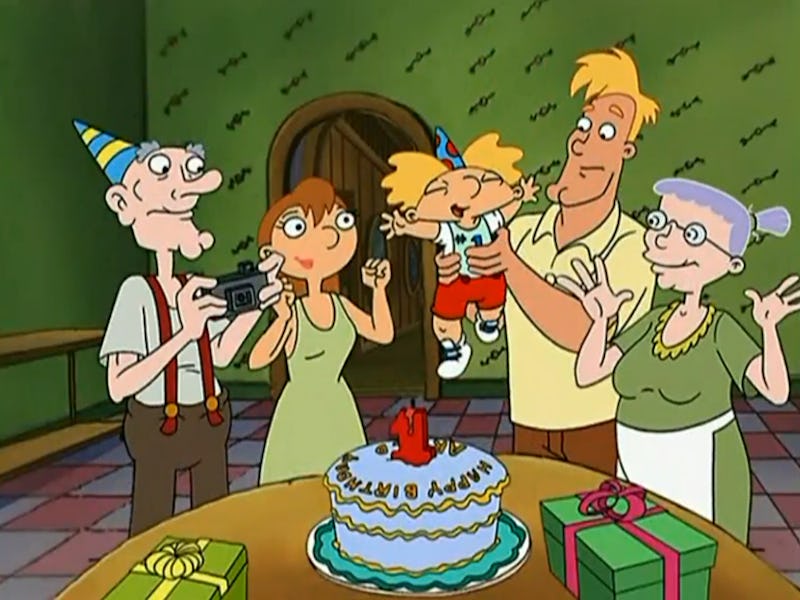 The '90s are coming back in a huge way: We already have the Boy Meets World spinoff, Girl Meets World, on Disney Channel, the Full House spinoff Fuller House on Netflix, and even a Legends Of The Hidden Temple movie in the works. Now, the news that '90s Nickelodeon fans were waiting for has officially been confirmed, and I am just so ridiculously excited to live in a world where I get to type the following sentence: Hey Arnold: The Jungle Movie is headed our way, and it is set to premiere as a TV movie on Nickelodeon in 2017. Though the news that Hey Arnold! was getting a new movie sequel was confirmed in November, on Wednesday Hey Arnold! creator Craig Bartlett took to Instagram to share the movie's title, which provides major hints about the subject matter of the new movie.
According to Movie Pilot, Hey Arnold: The Jungle Movie has actually been in the works for quite some time. The movie was originally going to be a follow-up to the two-part episode "The Journal," which showed Arnold learning about his parents' adventures in the jungle via his father's diary. It ended on a cliffhanger, with Arnold finding a map that could reveal where his parents' ended up. However, the project ended up in limbo for some time after the first theatrical Hey Arnold: The Moviein 2002 — but, apparently, not forever. Bartlett is once again working with the network and making fans very happy in the process.
However, that doesn't necessarily mean that the movie will be a totally happy one in itself, though. WHowever, while fans should be stoked to see what Arnold and his friends are up to, I am pretty convinced that the title —Hey Arnold: The Jungle Movie — suggests that we're in for one potentially tragic movie.
Arnold's parents left Arnold with his grandparents so that they could help the people in the jungles of San Lorenzo fight off a virus that had plagued their community. They left when Arnold was just a baby and have not been heard from since. From the artwork, it seems that Arnold is recruiting his friends to look for his long-lost parents — but what they find might be totally heartbreaking.
As heartwarming as it would be for Arnold to reunite with his parents after all these years, it's hard not to consider the alternative: That Arnold's parents died in the jungle many years ago. After all, they did go to the jungle to fight off a plague, and were never seen again. If they would have given anything to come back to Arnold, and it's possible for Arnold to go and find them, well... why wouldn't they leave the jungle and do so?
Even if Arnold's parents are very much alive, the movie is still setting itself up for being gut-wrenching. If the parents can be found — and there's no way that Arnold isn't discovering what happened to them if he's venturing all the way into the jungle — why didn't Arnold's parents leave the jungle to reunite with their son? Why didn't they find a way to send him a letter? I can't see many ways Arnold is going to be cool with whatever explanation they give him, save for them being thrown in a San Lorenzo jail for 12 years for a crime they didn't commit.
Real talk: could the Hey Arnold! movie be an introduction into a new show, titled Hey Arnold: The Angsty Teen Years? Because I'm not sure that Arnold's answers are going to do anything but bum us out.
Image: Nickelodeon; Giphy