Matt Damon Could Stay On The Run For 'Bourne 6'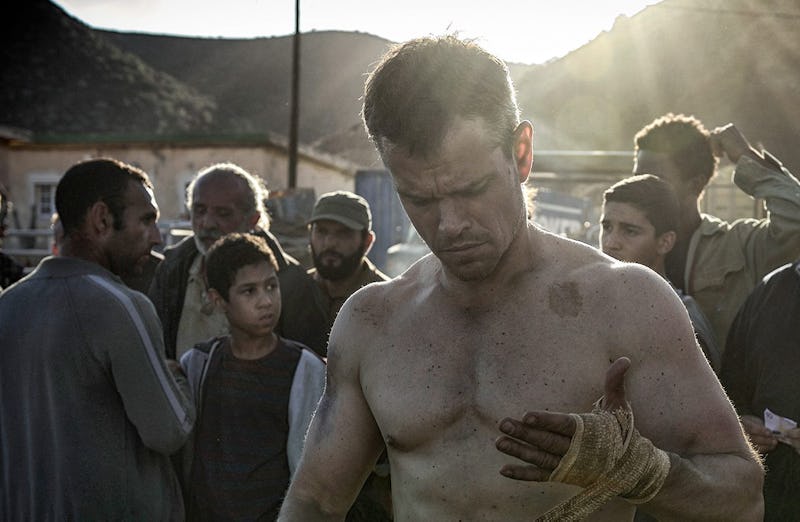 It's no surprise given the amount of car chases he's endured, but reluctant super-spy Jason Bourne is looking a little more grizzled and a lot more world-weary than the last time he was on screen. In the newest film in the franchise, Matt Damon returns to the role he created in 2002 after briefly handing the reins to Jeremy Renner and the fictional Aaron Cross in 2012's The Bourne Legacy. Jason Bourne arrives in theaters on July 29 and is the fifth entry in the mostly well-received action series. (The spy-swap didn't really work out for the best in that fourth one, is what I'm saying.) Now that Damon has come back home to the part that took him from boy genius to confirmed action star, maybe that means this property still has some life in it beyond Jason Bourne. But are there plans for another Bourne sequel, or is Jason Bourne the last Bourne movie?
Neither Universal Pictures, Matt Damon, or director Paul Greengrass have confirmed that a sixth Bourne film is in development. That silence doesn't mean much yet, though. Jason Bourne's box office take has to prove that moviegoers are still interested in the series' brand of high-intrigue and impeccably choreographed action in exotic locales, and only time will tell how the film does.
Bourne is a lucrative, high-profile franchise; its continuation and Damon's involvement have been topics of conversation among industry press and movie fans since The Bourne Identity became a box office success 14 years ago. Yet while the fourth movie pulled respectable numbers, it felt like a significant departure from the original trilogy and the possible starting point of the Bourne downturn. I was not surprised to see Damon sign up for another round a couple of years after Legacy seemed to prove that he (and Greengrass) were the missing element. And according to an interview with The Hollywood Reporter, Damon wasn't up for a Bourne outing minus his director. (Tony Gilroy helmed the Renner movie.) He explained their absence and the studio's push for Legacy:
I always tied myself to Paul. I always said, if he came back, I would love to come back. And we would talk about it periodically. But we just didn't have a story to tell. We just didn't have anything. And the studio was under pressure because they have a deal with the estate: They have to make a Bourne movie or they [lose the rights]. I don't know what the deal is, but I know that any time there's a franchise that's this successful, there's a lot of pressure.
But Universal Chairwoman Donna Langley's comments to The New York Times earlier this month indicate that the studio didn't intend and doesn't intend to let Bourne walk off into the sunset to live a normal life that easily. (Poor guy.) "We were always playing the long game with the Bourne franchise," Langley said. ""Even though Matt and Paul had been very definitive about not wanting to come back, we weren't really willing to submit to that."
If the Bourne demand is still there, it seems as if Universal is ready to fight for more and more sequels. As long as Jason Bourne can keep living through the impossible, he's still got a life on screen.
Image: Universal Pictures