'The American West' May Be A True Limited Series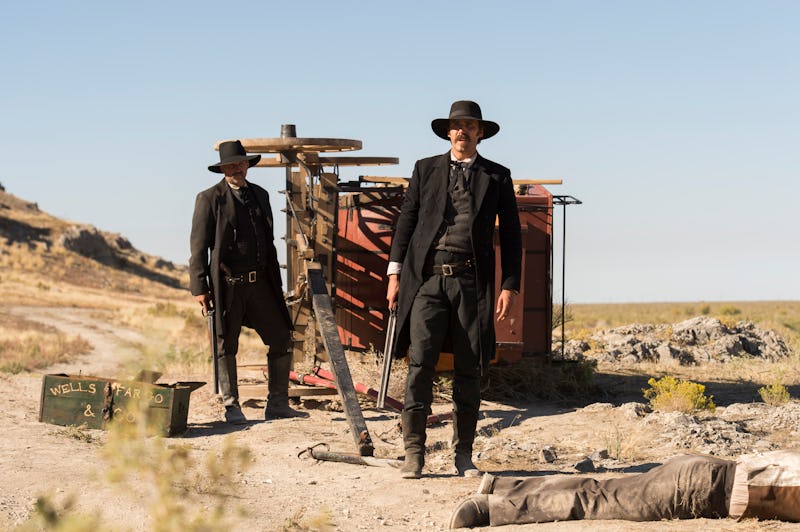 The limited AMC series The American West is coming to an end, and even though it spanned nearly 30 years of American development, it still feels like eight episodes wasn't enough. So will The American West return for Season 2? I have some unfortunate news for you — this has been billed as a "limited series" from the beginning, making it much less likely that the show will be returning for additional episodes. Producer Robert Redford's series was ordered over a year ago, which likely means that if there is another season, it probably won't premiere until next summer at the absolute earliest, and that's only if AMC decides they want more.
But there might be some good news for those looking to learn more from The American West's unique docudrama format. Even though The American West hasn't been renewed yet, AMC did recently renew similar series Making of the Mob for a spinoff/second season surrounding the Chicago gangsters. So that could mean that another season of The American West might pivot to another aspect of American history, though the first season has touched on a lot of major Western history.
However, even though The American West Season 2 is either a long way away or doomed to live on as a single season, the West has been the subject of many series in the past. While waiting to find out if there will be another season of The American West, check out some of these series instead.
Hell On Wheels
This series just came to an end (though there may be a spinoff on the way), and for its last season, it was paired with The American West. The title refers to the railroad in the post-Civil War West. And all of the previous seasons are available on Netflix streaming, so get watching.
Bury My Heart At Wounded Knee
If there's any one aspect of The American West that could use even more attention in Season 2, it's the lives of Native Americans. This two-hour HBO film, which can be streamed on HBOGo and Now, is a stunning example of just how little Native American history is taught in the U.S., and is a must-watch for anyone interested in this period of history.
Deadwood
It's filled with both real people and wild anachronisms about the West, but it's one of the most revered cable shows of all time. This series is available for your watching or rewatching purposes on HBONow.
The West
Ken Burns' documentary series from 1996 isn't quite as new as these other series, but it's perfect for anyone who wants to know more about the history of the American West. Seriously, it may be a little dry (Burns' documentaries are not known for being flashy, they're known for being incredibly thorough), but it makes for quite the learning experience for anyone interested in history.
Longmire
Originally on A&E, then rescued by Netflix, this series is a little different than my other suggestions. It's about the contemporary West, not the 1800s. But while the circumstances have changed, the cowboy vibe has not. It won't educate you on past events, but it will give you wan idea of the lasting effects of the Old West on the contemporary version.
Hatfields & McCoys
At one point this miniseries, ushered to the screen by producer and star Kevin Costner, was the highest-rated show on TV, and it's a great adaptation of the famous feud. Plus, it's available on Netflix, so it should be a no-brainer to check out this acclaimed series.
There's no telling if The American West will return for additional episodes or stay true to its limited series description, but regardless of whether or not it does, there are plenty of other series that dive in to exploring the Wild West in just as much painstaking detail as The American West does.
Image: Michael Moriatis, Michelle Faye/AMC