Who Plays Delphi In 'Cursed Child'?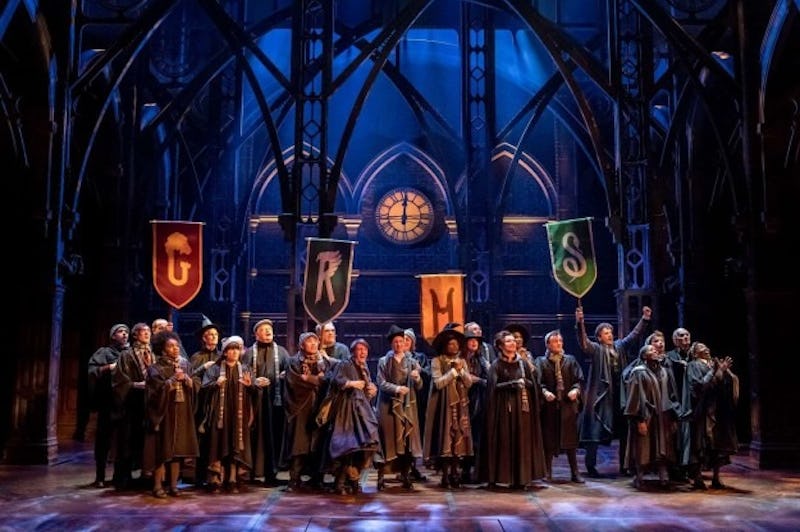 If you don't watch much British television, the name Esther Smith might not sound all that familiar. But over on her side of the pond, the actress who plays Delphi in Harry Potter and the Cursed Child — which opens at the Palace Theatre in London's West End on Saturday, July 30, and will be released in print everywhere on July 31 — has been busy making a name for herself, both on-screen and off. Although, at only 29-years-old, Harry Potter and the Cursed Child is arguably the English television actress's biggest gig, to-date. Because it's Harry Potter, and we're all obsessed.
Spoilers ahead!
Cast as the blue-and-silver haired vixen at the center of what might just be the story's biggest plot twist (spoiler alert: she's Voldemort and Bellatrix Lestrange's daughter, Delphi) Smith is one of the only characters who won't be recognized by fans of the series. But get used to her, because she plays a major role in the story — one fans have been speculating about since at least last year, when one Reddit user wondered online about whether or not Voldemort and Bellatrix might have been more than just, ahem, friends.
But who is the actress behind Delphi's character? As it turns out, Smith began her on-stage career as a dancer in her local theater in Stourbridge, West Midlands — taking to the stage at just three-years-old. Later, she attended and graduated from the Guildford School of Acting in Surrey, England. Upon graduating, she was cast in the role of Trish in the British romantic comedy Material Girl (aka: kind of like the British version of Devil Wears Prada) which ran for six episodes, to mixed reviews. Most recently she has been cast alongside Taylor Lautner (need I say, Team Jacob?) in the British sitcom Cuckoo , which is in its third season.
Smith's other television credits include Uncle, Ballot Monkeys, Black Mirror, Cockroaches, The Midnight Beast, Skins Redux: Rise, Misfits, The Smoke, and Elephant. And apparently, the performing arts run in the family. According to Smith's IMDB profile, her grandmother once worked as the assistant to a knife thrower, a position she ultimately left because of the knife throwers alcoholism — so, if that's not the opening to a future memoir, I don't know what is. I'm sure we'll be seeing plenty more of Smith from here, both on screen and off.
Harry Potter and the Cursed Child, $18, Amazon
Images: Photographer Manuel Harlan/Courtesy of Harry Potter the Play