How To Wear The Bronze Palette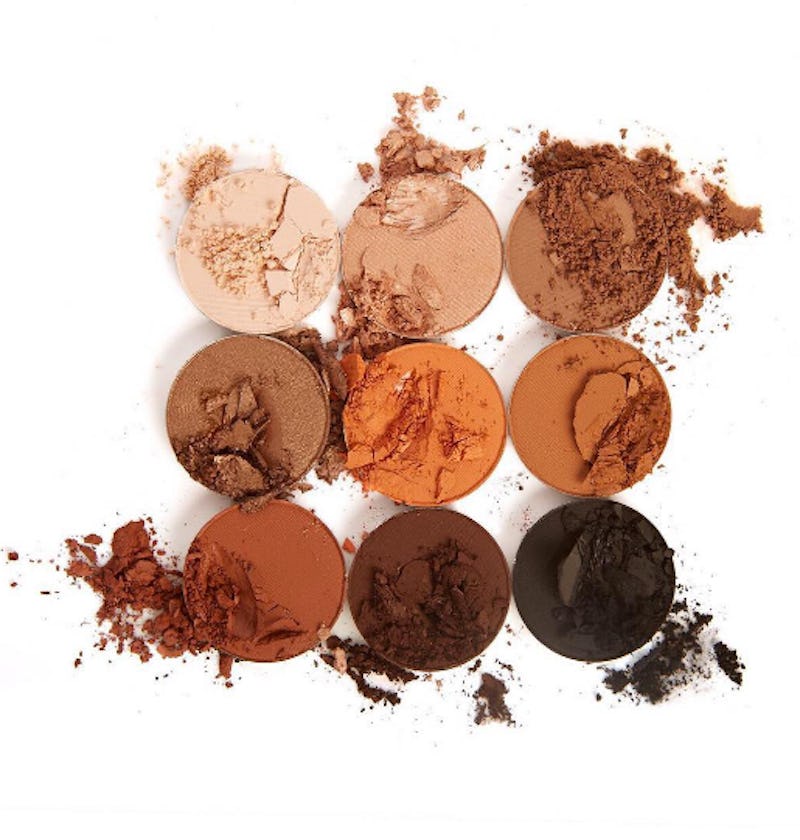 If you scored a KyShadow Palette yesterday during its epic launch, consider yourself lucky. Kylie Cosmetics sold out of The Bronze Palette in less than a minute, probably because these shades are gorgeous and so wearable. If you're one of the lucky people, here are nine KyShadow-inspired tutorials to watch so you can wear it like a pro once it arrives.
The Bronze Palette is Kylie Jenner's first venture into makeup beyond lipstick and lip-inspired products. It retails for $42 and features nine warm-toned shades that are versatile enough to create easy everyday looks or vampy, romantic smoky eyes. Two of the shades are a satin finish — Quartz, a champagne gold, and Goldstone, a bronze. The rest of the hues are basic matte shades that can be used daily, like a matte black Onyx or the mid tone taupe called Topaz.
Together, these shades can create fall-inspired looks to die for. Jenner posted her own The Bronze Palette tutorial on her personal Snapchat account, but there's tons of ways to wear this palette. YouTube makeup vloggers like Jaclyn Hill, Chrisspy, Kandee Johnson and more are big fans of warm looks, and their tutorials are crazy easy.
Here's a few of my favorite KyShadow-inspired makeup looks to try now.
1. Dramatic Fall Makeup Tutorial
If you love russet red tones, like Kylie's Hematite, you'll love this tutorial.
2. Cat Eye & Vampy Lips Tutorial
Just add winged liner! (Easier said than done, I know — thank goodness Jaclyn walks you through every step!)
3. Full Face Drugstore Fall Makeup Tutorial
Get back in touch with brown shadow in this tutorial.
4. Full Glitz Fall Makeup Tutorial
Bunny calls this full glitz, but I love how she uses lighter and softer colors to create a memorable look.
5. Warm Toned Smoky Eyes Tutorial
Orange can be intimidating to work with, but nothing makes your makeup pop like a bit of this bright shade.
6. Chocolate Cranberry Smoky Eye
This has "back to school" written all over it. It's gorgeous! To make the look less intense, opt out of black liquid liner and buff Onyx into your waterline instead.
7. Dark Smoky Eye
Wet your brush and dab one of the satin shades on the center of your lid for the illusion of larger eyes.
8. Black Smoky Eye
Want wing so sharp it could kill? Use Scotch tape to keep your shadows from falling everywhere.
9. Coachella Makeup Tutorial
Even though The Bronze Palette is mostly matte, the two satin shades can star in this look.