The 'Black Mirror' Season 3 Premiere Date Is Here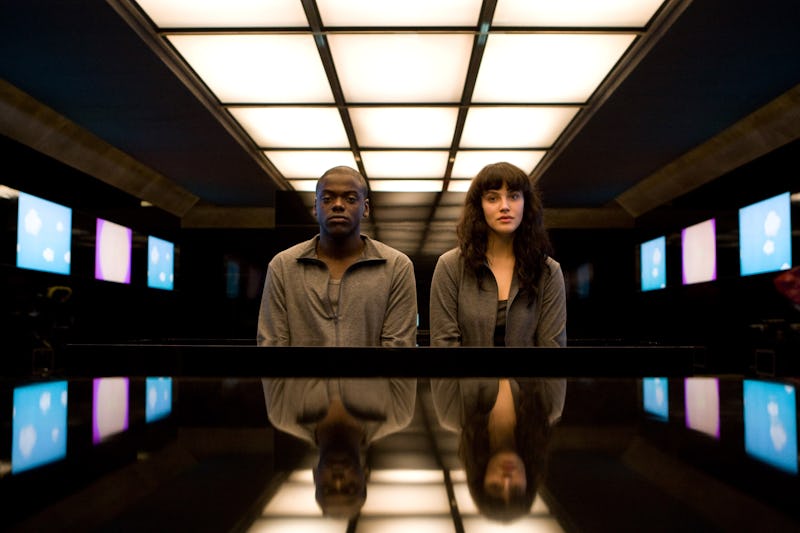 If there is a Stranger Things-shaped hole in your life since you finished marathoning Season 1 on Netflix, then fear not, horror fans, because there's more creepy TV on the way: the streaming service has announced the premiere date for Black Mirror Season 3. Black Mirror, if you're not aware, is Stranger Things' darker and twistier big brother from the U.K., which Netflix swooped in and rescued from cancellation last year. Now, all six episodes of Season 3 are set to premiere on Netflix October 21. Yes, it is still a long wait, but the good news is Netflix offered up new Black Mirror Season 3 spoilers to hold you over until the premiere.
Given the mysterious nature of Black Mirror, plot details for each of the anthology series' episodes are being kept quiet. However, Netflix did announce exciting news about each episode's cast and crew, as well as releasing the titles of all six episodes. There are more than a few pleasant surprises on the list, including an unexpected reunion for a beloved sitcom team and news about a starring role for a certain Game of Thrones' fan favorite actor.
Black Mirror Season 3 will be here in time for Halloween, so prepare for the fresh technologically bleak thrills with a few juicy spoilers about what lies ahead in the show's all too modern twilight zone.
There Is Going To Be A Parks & Recreation Reunion
Black Mirror is the most random place I can imagine a Parks & Rec reunion, but that only makes the news that Rashida Jones and Parks & Rec creator Mike Schur are co-writing an episode all the more exciting. The duo have penned an episode entitled "Nosedive." Even more intriguing? The outing stars Bryce Dallas Howard, and is directed by Atonement director Joe Wright.
Schur has proven himself to be adept at writing feel good comedy with a bite, but Black Mirror is going to take both Schur and Jones into a whole new genre.
Game of Thrones' Bronn Is Starring In An Episode
Jerome Flynn, better known to Game of Thrones fans as Bronn, is set to star in one of Black Mirror's new episodes — and he might even dance. The last part depends on how literal the title is since the episode is called "Shut Up and Dance." Given Black Mirror's past, I am sure nothing will be as it seems though.
There Might Be A California-Themed Episode
The very British series might be focusing on California for at least one outing. There will be an episode called "San Junipero" in Season 3, and while there is no summary for the hour, Saint Junipero is a controversial figure closely associated with California. Could a futuristic examination of the state of California and religion be coming your way?
A Penny Dreadful Director Is On Board
Black Mirror has its own grotesque sort of beauty, but Penny Dreadful was one of TV's most stunning shows. Director James Hawey directed some of Penny Dreadful's best outings and now he is turning his talent for creating beautiful horror to Black Mirror. His episode is called "Hated in the Nation," and it stars Kelly MacDonald. It is already a can't miss outing and no one knows what it is about yet.
An Episode Could Get (Technologically) Prehistoric
The misuse of technology is the source of all fear on Black Mirror which is why I am extra intrigued by an episode called "Man Against Fire." The title sounds at once like a political statement and a battle of wits. Is it the story of a man crusading against modern advances, a man versus wild tale, or something else entirely? Knowing this show it is probably the latter.
10 Cloverfield Lane Director Dan Trachtenberg Is Helming An Episode
Trachtenberg already impressed horror fans with the clever 10 Cloverfield Lane, and now he is bringing his talents to an episode of Black Mirror called "Playtest." Get excited, guys, get very excited.
The Show Is Getting Even More Ambitious
While it hardly seems possible, Season 3 is actually going to be bigger, more thought provoking and epic than ever before. According to The Hollywood Reporter, series creator Charlie Brooker promised the new season is more ambitious in both storytelling and scope. In other words, go ahead and prepare to avoid technology for a month after you devour the six new installments this October because internet culture is about to get crazy scary again.
If these Black Mirror spoilers reveal anything it is that the only rule Black Mirror follows is expect the unexpected.
Images: Netflix; Giphy (7)