'Last Chance U's Football Team Is So Impressive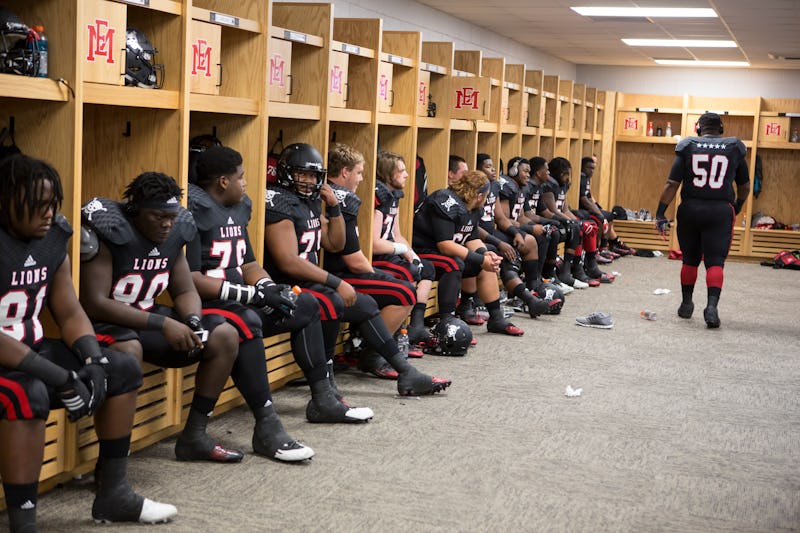 Last Chance U, Netflix's new documentary series, will introduce a huge portion of its audience to one of the nation's most unique college football teams. Granted, I'm sure plenty future Last Chance U fans are familiar with the team's eccentric history, but if you fall more on the "streaming TV fanatic" side than the "sports fanatic" side of the show's probable audience, it's very possible that you don't know who the East Mississippi Community College Lions are. They're not in the NCAA, and they're not based in one of the colleges like UT or USC that have famous football teams. But this junior college is a recurring champion and a place where its athletes can go if they didn't get into, can't afford, or simply don't choose a four-year university but still want to continue their football career and even hope to be drafted into the NFL.
According to the SEC Sports news website SaturdayDownSouth, "recruiting at the junior college level has become just as important, if not perhaps more important, than recruiting at the high school level" when it comes to junior college players. And EMCC proudly displays that it has many, many players who have gone on to either play football at a four-year school or in the NFL, including several notable athletes like Za'Darius Smith. Last Chance U viewers may actually be getting to know the next big NFL stars.
EMCC can afford to brag about its skills as well as its alumni, since the Lions have won so many championships. According to EMCC's own count, the school has won "three National Junior College Athletic Association (NJCAA) national championships, four Mississippi Association of Community & Junior Colleges (MACJC) state championships and seven MACJC North Division titles since 2008." The college credits coach Buddy Stephens with the team's incredible winning streak.
In fact, according to The A.V. Club's review of Last Chance U, there's a locally enforced "mercy" rule that allows the second half of junior college football games to be accelerated if one team is crushing the other, and it's colloquially known as the "Buddy rule" because of Stephens' coaching prowess with the Lions.
Unfortunately, in late 2015, EMCC was disqualified from 2015 playoffs after a game against Mississippi Delta resulted in fights between the teams' players, as reported by The Clarion Ledger. EMCC appealed the decision and was denied, according to The Meridian Star. So even though they're very skilled and have won a ton of games, there's still some room for the East Mississippi Community College Lions to come across as the underdogs in Last Chance U's debut season.
Image: Alan Markfield/Netflix