John Franklin III May Soon Be A True Sports Star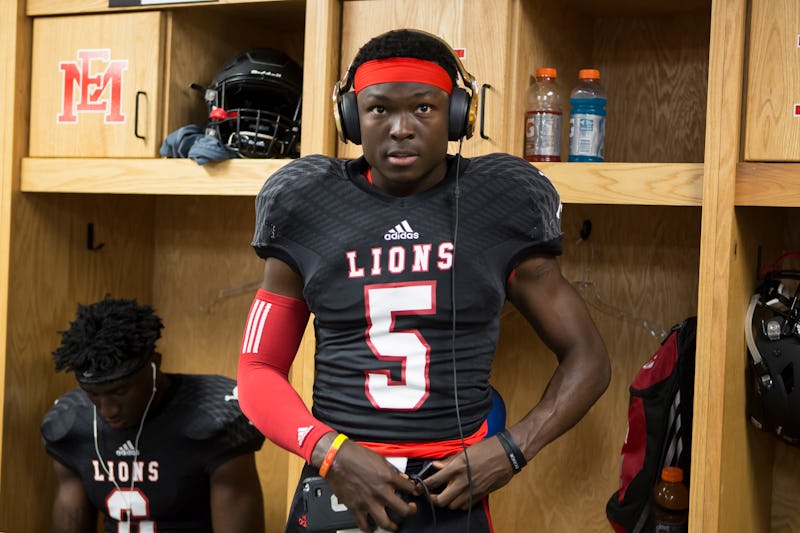 You don't have to know or love much about the actual ins and outs of sports to appreciate a good sports story. And similarly, you don't need to know very much about Netflix's Last Chance U in order to tell that East Mississippi Community College's star quarterback is the real-life version of an inspirational sports movie character. But there has to be a person behind those character traits, so who is Last Chance U star John Franklin III? In addition to his position as the Lions' starting quarterback for the season profiled in Netflix's documentary, he's also looking to become the next NFL player to come out of EMCC.
While Franklin, who's high school nickname was "Showtime," is a standout among this junior college roster, it seems like his whole life has been leading towards an even bigger accomplishment — and he's barely 20 years old. And though Last Chance U is a documentary, life keeps moving even when the cameras stop, so there have been some developments to Franklin's career since the time period that the show covers. The Netflix series captures Franklin while he's still a junior college student and four-year prospect, but according to Bleacher Report, he now has a good chance of being the starting quarterback for Auburn University during the 2016-2017 season. Since Auburn is a Division I school, this would be an incredible accomplishment.
In the same Bleacher Report article, Franklin talked about potentially being the starting quarterback for such a big school with the utmost of confidence. "I believe I'm going to be out there on Sept. 3 the first snap of the game," he said, and his past at EMCC would seem to back that up. In fact, his performance was so good that according to Bleacher Report, an enormous fight that occurred at a game between EMCC and Mississippi Delta partially stemmed from Franklin giving his team such an enormous lead.
EMCC coach Buddy Stephens explained to the website that because someone from Auburn had come to the game, "We tried to get one more series so that we can throw a little bit so [Auburn's offensive coordinator] could see it because we knew that this was John's opportunity and John's chance," he said. "Well, the other team and everybody else around the league hates us so much because we win, it caused a fight."
It seems that the fight didn't put a damper on Franklin's performance, as he now plays for Auburn, which he told Bleacher Report is a great school for him. "That's one of the main reasons that I'm here now—because this offense fits me," he said. "It feels really good to be in an offense that's suited to fit my skill set."
John Franklin III is on the verge of becoming the next big thing, both thanks to his inclusion in Last Chance U and icredible rise through the ranks of college football. Before he went to EMCC, Franklin was a high school superstar, and now that he's moved on, his next bout of fame could come with an NCAA championship or even a spot in the NFL.
Image: Alan Markfield/Netflix