Did Rihanna's Camo Creepers For Puma Sell Out?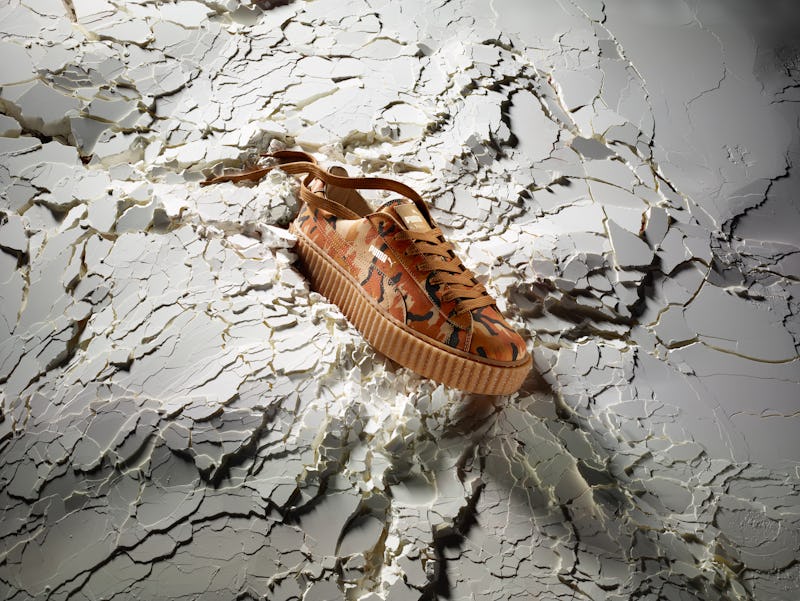 There are two essential and definitive things to know about the Rihanna x Puma Creepers. The silhouette, which is a remix of the classic suede sneaker and sits on a platform sole, is super stylish and crazy cute. Additionally, new sneaker drops from the singer and brand for which she serves as creative director sell out instantly. Stock is usually drained within a half-hour. Rihanna and Puma are releasing an orange camo print version of the Creepers on Thursday, July 28. The burnt orange Rihanna Camo Puma Creepers go on sale at 10 a.m. ET/7 a.m. PT at the Puma site, via Puma stores, and at other select retailers.
UPDATE: As of 10:45 a.m. ET, the Rihanna Camo Pruma Creepers are sold out. The screen shot below confirms the status.
You can shop the $140 Camo Creepers successfully by following these tips.
The sneakers have gone on sale, with the usual interest and hype. Are the Rihanna x Puma Camo Creepers sold out?
As of press time, the shoes are available on the Puma site. But if history is an accurate indicator, and it usually is, I expect these kicks to move fast and to be sold out sooner than later. Bustle reached out to Puma PR reps to ask if the Camo Creepers are limited edition and if any future drops or restocks are planned. Puma PR responded that they cannot confirm a restock pending a sellout at this time, but to stay tuned for more info!
Gone, baby, gone.
The colors are so autumnal. The print reminds me a bit of leaves. The Camo Creeper is the perfect back-to-school sneaker. No wonder fans want it so bad.
It's all about those cool details with the Camo Creepers.
If you were shut out from shopping these kicks, you have another option. You can always seek them out on a third party site, like eBay or Amazon. But be sure to do your homework, making sure the shoes are legit. You can also be prepared to spend more than the MSRP.
Decisions, decisions! But the Creepers inspire that type of love no matter the print or colorway.
I also have more good news if you are simply a devotee with a fetish for RiRi x Puma footwear. The fashion plate and the brand are also dropping grey Fur Slides on Friday, August 5. So there's that.
Images: Puma (1); Puma/Instagram (1)