Will Puma Restock The Rihanna Camo Creepers?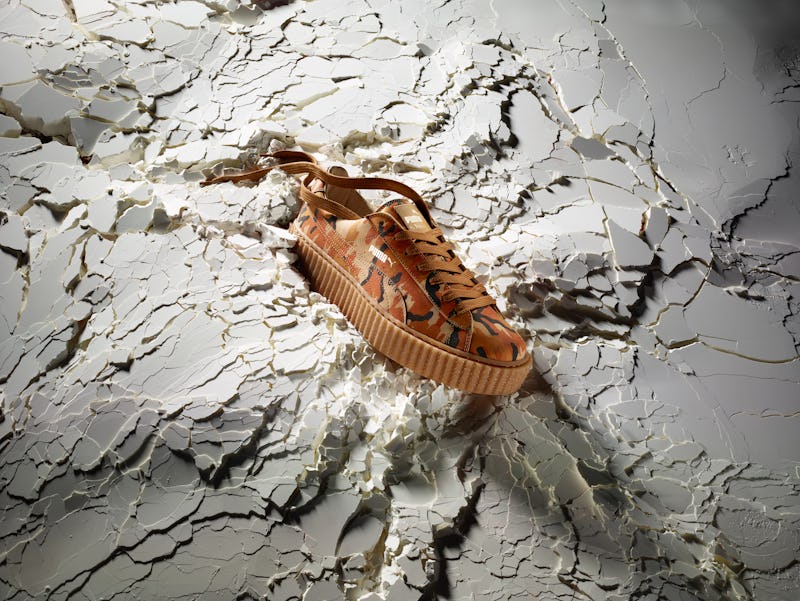 Celeb sneaker collabs are often accompanied by hype and sellouts. But there's something insanely special about the Rihanna x Puma Creepers. The silhouette, which is a remix of the classic suede sneaker and sits on a platform sole, is super stylish and crazy cute. That's why new color drops of the sneakers sell out instantly. Rihanna and Puma released an orange, camo print version of the Creepers on Thursday, July 28. The burnt orange Rihanna Camo Puma Creepers went on sale at 10 a.m. ET/7 a.m. PT at the Puma site, via Puma stores, and at other select retailers. I recommended these tips for successfully shopping the $140 Camo Creepers.
Now that the autumn-ready Camo Creepers have arrived and gone on sale, you have to be wondering if they are limited edition and if they will be restocked.
Bustle reached out to Puma PR reps to ask if the Camo Creepers are limited edition and if any future drops or restocks are planned. We will let you know if and when we hear back.
UPDATE: Puma PR responded that they cannot confirm a restock pending a sellout at this time, but to stay tuned for more info!
I'd like to remind you that the May drop of the all-black, all-white, and the green Creepers was not followed by a restock. As of press time, there does not appear to be any plan to bring those sold-out sneakers back again.
That said, the press release Bustle received about the upcoming grey Fenty Fur Slides did note that we should "stay tuned for new releases launching later this season." So there's that.
While we might get some new footwear at some point this year, let's focus on the newest shoe. The colors are so autumnal. The print reminds me of a glorious pile of leaves in early October. The Camo Creeper is the perfect back-to-school sneaker. No wonder fans want it so bad.
It's all about those cool details with the Camo Creepers.
If you were shut out from shopping these kicks, you have another option. You can always seek them out on a third party site, like eBay or Amazon. But be sure to do your homework, making sure the shoes are legit. You can also be prepared to spend more than the MSRP.
Also, if you are a devotee of or have an insatiable fetish for RiRi x Puma footwear, I have solid news. The fashion plate and the brand are also dropping grey Fur Slides on Friday, August 5. Yaas!
Images: Puma (1); Puma/Instagram (1)