Frozen Treats Are WAY Different In Other Countries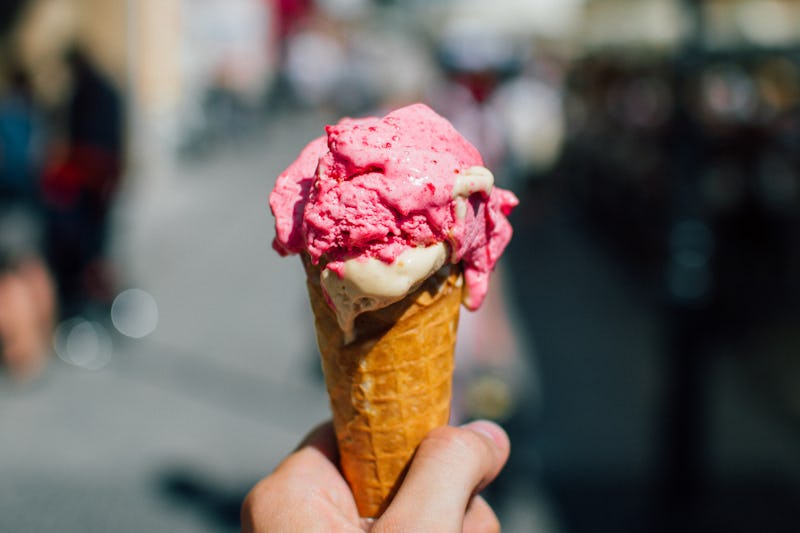 Whether in a cone or in a cup, topped with chocolate sauce, sprinkles, or whipped cream — ice cream is the ultimate summer dessert. But all that sweet, velvety deliciousness isn't just an American thing; there are frozen treats from around the world just waiting to be discovered and added to your freezer.
Those of us with some international vacay coming up may want to check out the warm weather dessert options and street food native to the destination ahead of time. Sadly, ice cream doesn't travel well, so it may be your only shot at trying the real thing (and Instagram it for posterity). To help you expand your ice cream knowledge, the Fairmount Hotels and Resorts has made an awesome infographic displaying all the global variations on this cold confection. Some of these desserts have strange histories, ancient origins, and are certainly a lot more complicated than milk, cream, and sugar.
By now, you may be fairly familiar with silky Gelato from Italy, but there are some truly strange sounding treats that haven't made the journey to the U.S. yet. In the Philippines, cheese-flavored ice cream served on a bun is a popular local treat (and not your everyday ice cream sandwich). In Germany, instead of a couples scoops you may find yourself with a bowl of the cold stuff that looks like spaghetti topped with tomato sauce. In Turkey, there is a frozen cream so thick that it is eaten with a knife and fork (*drool*).
Uhhh... can someone export all these ice creams to my mouth, like, now?
The only regrettable thing on this infographic is that America is repped by froyo. I get down at Pinkberry every now and again, and was obsessed with Tasti D-lite after seeing it on Sex And The City, but it can't really hold a candle to the real thing. The Kulfi from India, dating all the way back to the 1500s, looks AMAZING. A royal pistachio and cardamom frozen dessert even denser and creamier than normal ice cream? Me wanty.
Let me just take a moment to process this for a moment... spaghetti ice cream? I think my brain might short circuit if I tasted this odd sundae — though you really can't go wrong with vanilla ice cream with strawberry sauce.
Mochi ice cream is highly portable, the rice paper wrapping halts the melting process, so it won't get all over your hands on a hot day. The red bean paste and green tea flavors are sweet, bitter and nutty and like Gelato, this spin on ice cream is popular in the U.S. and worldwide. Now if I could just find a way to get my hands on some authentic Dondurma!
National Ice Cream Month is almost over, so why not celebrate with one of these unique frozen treats?
Images: Fairmont Hotels And Resort