7 Tinder-Like Apps For Meeting New Friends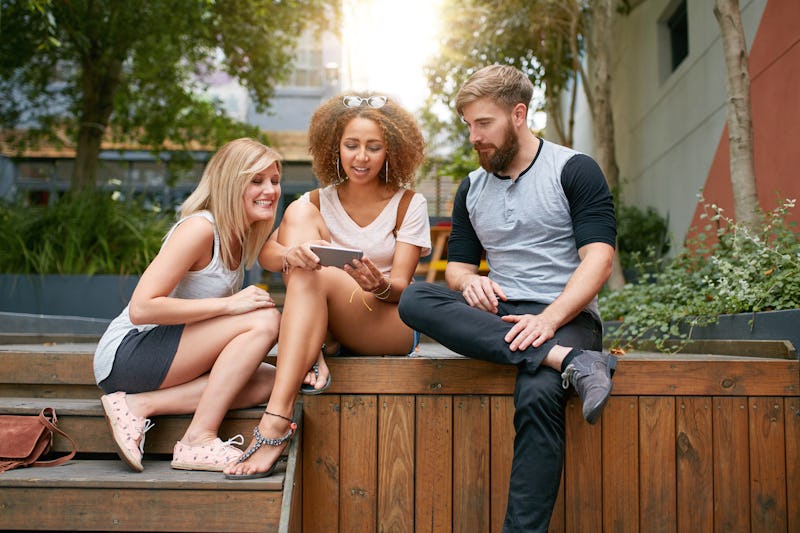 These days, there seem to be apps for everything — dating, adventure-seekers, and book-lovers. There are apps to make friends, too. Perhaps you've tried Meetup groups, but they're too intimidating or have too many members — you just want something more low-key. And, yes, you can "befriend" people on dating apps, but if the initial intent was to date, a "friend" from there may have ulterior motives. So, to cut to the chase and make some bona fide friends, the apps below can help.
ICYMI, the older you get, the more some of your lifelong friends get busy with other life things, like getting married, having kids, or moving across the country. Yep, they're adulting. You are, too, though you may lose touch with them or see them less as your lives go different directions — even though you don't want to replace them, per se, you also don't want to stay inside alone… again.
Luckily, with a lot of the apps below, you can tailor them to your needs, whether you want to find a group of friends to go out with last-minute (via Tinder Social), fellow athletes to organize a beach volleyball game (via ATLETO), or find a new best friend (via Bumble BFF). You can even join an app for your dog to meet up with other dogs (via Meet My Dog). (Riiiight?) Whatever your friend needs may be, there's probably an app for you, waiting for you to download it. Here are seven apps for meeting new friends.
Yep, now you can make friends on Tinder. The app launched Tinder Social, which allows users to form groups of friends (same-sex or co-ed, whichever you prefer) to match and meet up with other people's groups of friends. But, it's not just for daters. If you're no longer on Tinder — i.e., you met someone — you can rejoin just for the new "social" aspect.
It reminds me a lot of Meetup groups, only way smaller ones that you hand-select. Once you form a group of 2-4 people, you assign a status to the group, like "Happy Hour, anyone?" or "Going to a concert tonight." Then, just like with regular Tinder, let the matching begin. Once your group matches with another group, you can start messaging each other, which looks a lot like a group text. Then, just make plans to do something tonight — yep, tonight, since your group will expire at noon the next day.
Have you always wanted an app to meet fellow athletes and sports-lovers? Then ATLETO may have been made for you. Whether you want to find a running buddy — working out's easier when you have a friend or person to hold you accountable, right? — or another person for a pick-up game of basketball, the options are endless. With over 40 sporting activities to choose from, like tennis, volleyball, and cycling, you'll find at least one you'll like. You can either join an activity or host one.
Creating a profile's simple, too, filling in info such as your workplace and sports club affiliations. Then, just start looking for like-minded sports aficionados based on their interest(s), location, and skill level. After meeting up with others, you rate them on a scale of one to five "knuckles," an icon that looks like a fist, based on their athletic ability. (Yikes — I'd probably fail, unless personality counts!) This is to make sure you're teaming up with people on a similar level as yourself, and the ratings are based on skill level, effort, and sportsmanship.
By now, you've probably heard of Bumble, the app where women make the first move in heterosexual matching and either person can make the first move with same-sex matching. The catch? It has to be done within 24 hours or else the match disappears. (I happen to be a big fan, as I met my boyfriend on it.) A few months ago, the app launched Bumble BFF, so those of us looking for a BFF, or maybe just some friends, can go on and find some. Just like when you're in dating mode on the app, you "match" with potential friends based on their profiles.
Bumble itself has approximately three million users, and when the BFF app launched, there were one million swipes in the first week (!). That's a lot of users looking for friends. Personally, I think this is a great idea. Last year, I relocated for family reasons, leaving most of my friends back in L.A. So what did I do? Joined Bumble BFF. The only caveat is that some people are on Bumble for dating and BFFs, so you may witness some thirsty pictures meant for prospective dates, not friends.
Have a dog and want to meet other dog-owners, and not just at the dog park or randomly on the street? Instead, why not randomly on an app? On your profile, you tell fellow users about yourself and your dog, posting pictures of you both. When you're at a certain dog park, you can check in so all your new app friends now and you can have a play date, of sorts. Or, you can private message and have a one-on-one doggie date. Like other location-based apps, you can also see which dogs are nearby. You can also share info with other users, like vet or park advice, as well as post cute pics. And come on — who doesn't like cute dog pics?!
With Squad, you pick up to five Facebook friends to be part of your "squad," which you can switch up anytime. Then, you create a group name and tagline, meaning your goal — going to such-and-such bar tonight or a Mets game this weekend. Then, check out other squads and let the swiping left or right begin. Once you match with another squad, you have 24 hours to message and make plans. Oh, and instead of a bio, you describe yourself via three emojis (and you can still write a bio if you so choose) — which is awesome and so 2016.
Do you and a couple friends want to meet some new people IRL? Why not, huh? When you log onto CLIQ, you can then match with another group of friends. But first, you'll pick out some topics you're interested in. Then, the app takes over and sends you "Goodies" based on your interests — they'll suggest things or places for you to check out. When you use the app's "Huddle" feature, you can privately chat with members of your CLIQ, too. And, CLIQs can post status updates, photos, videos, and update where they are so their followers know.
With Skout, you can meet people near and far. Available in almost 200 countries, you can literally meet people all over the world. Teens and adults alike can use the app to make new friends or business contacts, then chat, exchange notes and photos, and send virtual gifts. Plus, you get to decide if, and when, you want to connect with someone. Whether you want a future gym partner or to meet up with a fellow writer for advice, Skout could be whatever you want it to be.
Images: Fotolia, Tinder ATLETO, Bumble, Meet My Dog, Squad, CLIQ, Skout