9 Easy Steps To Get Back In Touch With Someone
Go beyond "Let's get coffee!"
by Eva Taylor Grant and JR Thorpe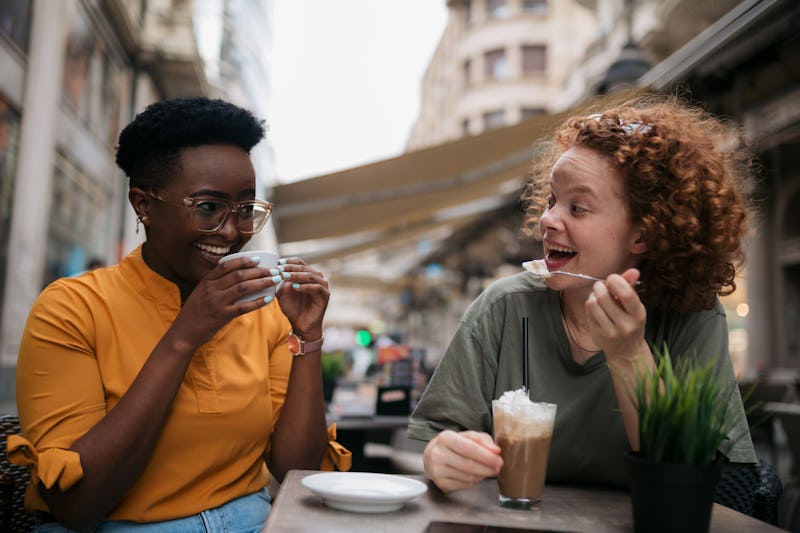 Brothers91/E+/Getty Images
Even though in the age of social media, it feels like it's easy to know where your friends are and what they're up to, your 20s are still a prime time to fall out of the loop. With all the milestones and career changes and moving to different cities, it can creep up on you that someone who was once there every day hasn't texted you in over a year. In fact, a 2016 study published in Royal Society Open Science found that people start losing touch with friends starting after age 25 — and women lose touch faster than men. But even once you've gone radio silent, you don't have to agonize over how to reconnect with an old friend, experts say.
"There's nothing inherently wrong with losing touch, even though we often feel guilty about it and place judgments on ourselves about how we're 'bad friends' or something like that," life coach Desiree Wiercyski tells Bustle. "Because of this, it's hard for someone to reach out, so if they do, and if you have time and are willing to, then grab that cup of coffee. The only way you'll really know if you're really reconnecting in friendship is by getting together." Plus, who else will be able to gossip about that one time on the class trip with you, or embarrass you with things they remember about your Sophomore year?
But when is the right time to reach out to an old friend, especially if it's been a minute since you last caught up? "If you find yourself thinking about an old friend and wanting to reconnect, then that's a sign to do it," Nicole Sbordone, LCSW, an Arizona-based therapist, tells Bustle. Working out how to reconnect with someone can be a multi-stage campaign or as easy as sliding into their DMs, but once you're brave enough to take that first step, anything can happen.
Here are nine tips for how to reconnect with an old friend after you've lost touch, according to experts.
Experts:
Jenn DeWall
Heidi McBain LMFT
Nicole Sbordone LCSW
Desiree Wiercyski
Studies cited:
Bhattacharya K, Ghosh A, Monsivais D, Dunbar RI, Kaski K. R Soc Open Sci. 2016;3(4):160097. Published 2016 Apr 6. doi:10.1098/rsos.160097
Caruana F. (2017). Laughter as a Neurochemical Mechanism Aimed at Reinforcing Social Bonds: Integrating Evidence from Opioidergic Activity and Brain Stimulation. The Journal of neuroscience : the official journal of the Society for Neuroscience, 37(36), 8581–8582. https://doi.org/10.1523/JNEUROSCI.1589-17.2017
Tamir, D. I., & Mitchell, J. P. (2012). Disclosing information about the self is intrinsically rewarding. Proceedings of the National Academy of Sciences of the United States of America, 109(21), 8038–8043. https://doi.org/10.1073/pnas.1202129109
van Tilburg, W. A. P., Sedikides, C., Wildschut, T., & Vingerhoets, A. J. J. M. (2019). How nostalgia infuses life with meaning: From social connectedness to self‐continuity. European Journal of Social Psychology, 49(3), 521–532. https://doi.org/10.1002/ejsp.2519
This article was originally published on