Superman & 'Supergir'l Are United In This Photo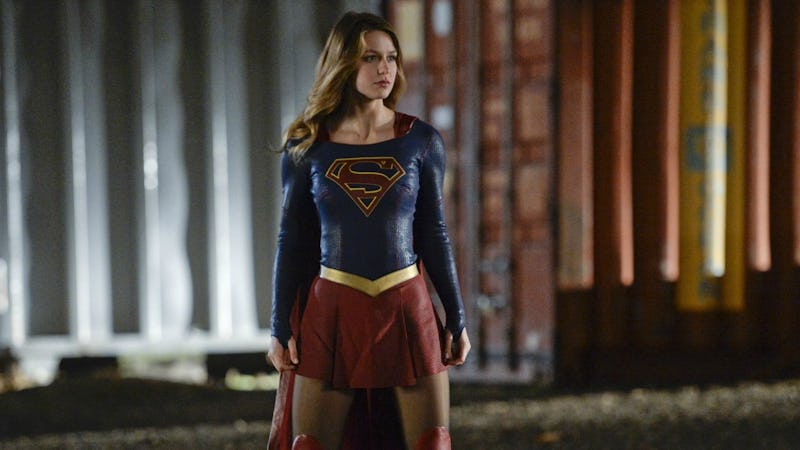 There's another Krypton coming to the CW, and he's totally twinning with his cousin. After female-led superhero series Supergirl announced that they would be bringing on Kara's older cousin Clark Kent — yes, that Clark Kent — into the mix, some fans were skeptical about how the awesomely lady-centric show would fare now that Superman is dropping in to help Kara take care of things. Though we won't know until Season 2 premieres on Oct. 6 on Supergirl's new network, in terms of actual appearance, Supergirl has definitely chosen well with its new Superman. The first picture of Superman on Supergirl Season 2 has been revealed, and, whether you're excited or bummed about the new Supergirl development, you have to admit that Tyler Hoechlin looks damn good in those tights.
Hoechlin beat out lots of handsome young actors for the role of Superman, so, naturally, he had to fit the bill before he was asked to step into Clark's secret identity. Now that we're seeing Hoechlin dressed as the superhero, it's clear that his casting was a very smart move on the part of the CW. I'm also obsessed with the costume decision, which is a little more old school than the sleeker costumes we see in DC movies like Man Of Steel. Check it out:
My one hope for this upcoming Superman storyline is that it still lets Kara run the show. After all, she may be a newbie superhero compared to her cousin, but Season 1 of the series proved that she's a total badass. If Superman is comfortable playing second fiddle to Supergirl, I'm very much onboard for a family reunion — especially when the new superhero looks like that.
Here's hoping Season 2 of Supergirl remains very much about Supergirl. If the series can do that while Superman is temporarily in the picture, that's a nice reminder that ladies can lead no matter whose ready to step in.
Image: CBS