This 'PLL' Spoiler Could Be Huge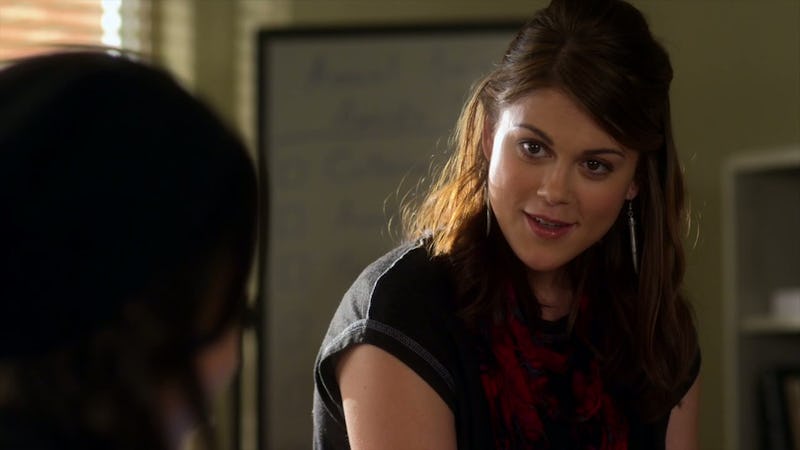 One Liar's ex is coming back in the picture in a big way, and it sounds like it won't bode well for her new career prospects. Emily and her girlfriend Paige bid each other a tearful goodbye after Paige decided to move to California with her family after high school graduation, and Emily moved on — specifically, to the likes of Sara Harvey. That may not have worked out, considering Sara was very much on the A-Team, but Em's budding romance with barista Sabrina definitely has more potential to be the real thing. Unfortunately for Sabrina, Emily's ex is back in town, and it could spell trouble. We now know why Paige is returning to Pretty Little Liars in Season 7, and the reason why is definitely going to make life hard for Em.
Based off the title alone, we all knew the Pretty Little Liars episode titled "Exes and OMGs" would bring a Liar's ex back in town, and now, we know that Paige will be said ex. According to the official Freeform synopsis for the Aug. 16 episode, Paige and Emily will encounter one another in Rosewood in perhaps the most awkward way imaginable. Here's what the synopsis says about Emily and her ex:
Emily goes up for a position as the Rosewood High swim coach, only to learn that her ex-girlfriend Paige is also up for the job.
There's pretty much nothing more painful than seeing an ex where you least expect them, but to have that place be a job interview for a gig you actually want? That's downright terrifying. Sure, Emily and Paige ended things on good terms — or, at least, we think they did, considering we haven't actually heard much about Paige since that tearful goodbye — but I wouldn't be surprised if this move makes things a little tense between the pair formerly known as Paily.
Of course, this situation could actually play out in the favor of Paily shippers. Though these two are competing for the same job, Rosewood High could always split the position, or make one of the women an a second coach. Given that Emily's aspirations aren't bartending, she'll definitely want to take another job, especially one that gets her back to her passion for swimming. Could getting closer to her dream job also send her back into Paige's arms? Something tells me that PLL won't miss an opportunity for these two to reunite.
After spending Season 6B without a love interest, it seems like Emily will now have more than she knows what to do with.
Images: Freeform; Giphy