Big News, 'PLL' Paige Fans!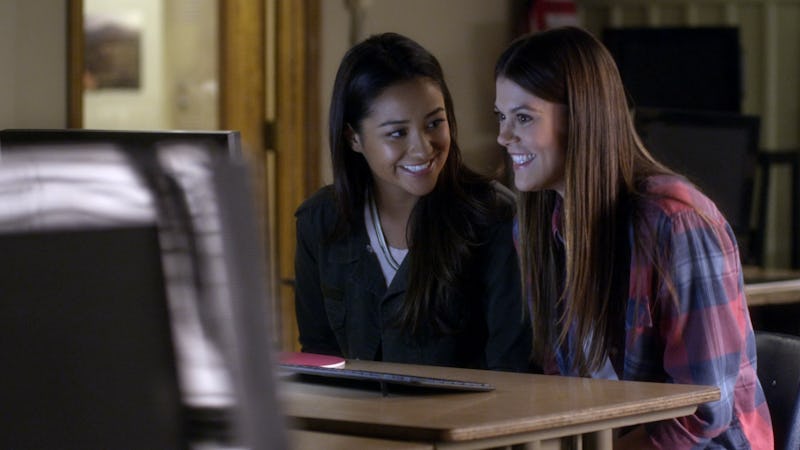 There have been countless rumors surrounding Paige returning to Pretty Little Liars for some time now, but now, it's official: The Hollywood Reporter has officially confirmed reports that Lindsay Shaw is to reprise her Pretty Little Liars role after two seasons away the show. Though full details have yet to be released about her story arc, what we do know at this point is that Shaw is set to appear in a couple of episodes in the first half of the season, with her first reappearance scheduled to take place in episode eight. The addition of Paige's character to the seventh (and possibly final) season of PLL also adds extra intrigue to a cast, which is seeing Tammin Sursock's Jenna, Drew Van Acker's Jason DeLaurentis, and possibly Brant Daughterty's Noel Kahn return to the show. Could the return of these characters to Pretty Little Liars signify that we could be finally getting some closure surrounding the many unsolved mysteries of the show?
If the interview that I. Marlene King recently gave to Entertainment Weekly is any indication, then it certainly seems hopeful. The PLL creator teased that not only will Season 7 be the "most romantic season yet," but also that it will be a "season of homecomings." Color me intrigued. Though the "homecomings" suggestion could easily be interpreted as just making reference to the return of Jenna, Jason, Noel, and Paige, it also appears to suggest that the creator wants to bring the story home, so to speak, and by doing so tie up some of the numerous loose ends and plot holes which have been hanging since before the time jump.
Though there are no PLL characters who don't have some form of unsolved mystery lingering in their past or a story arc which is anything less than complicated, Paige has definitely always been a much more complicated character than she ever appeared on the surface and many fans have been quick to point out the numerous occasions in which Paige has been less than trustworthy. Hopefully some of those shady characteristics of Paige will play a very big role in Season 7 as we continue to delve down the Rosewood rabbit hole.
Perhaps most important to fans though is the possibility that Paige and Emily could finally be getting back together, and that romance couldn't be coming any quicker. Emily, it should be noted, has had the worst luck with women since Paige left, and sadly, their situation could be even further complicated due to the dalliance that Emily enjoyed with Alison (who already had a contentious history with Paige). But hey, I. Marlene King suggested that this would be a season full of "romance," right? And I for one would like to believe that Paige will be delivering a big slice of that romance to Emily.
Will Paige be returning specifically to see her ex? Or will she perhaps be privy to some information that the Liars desperately need to know themselves? Considering that Paige initially left Rosewood in order to escape the mental and physical threats of A, it could well be the case that she's been tracked down by a less than friendly assailant who will be using her as leverage to further torment the squad. But here's hoping she's only there to woo and protect and to shed some much needed light on some endless mysteries.
Images: Freeform (2); Giphy