This 'Suicide Squad' Setting Speaks Volumes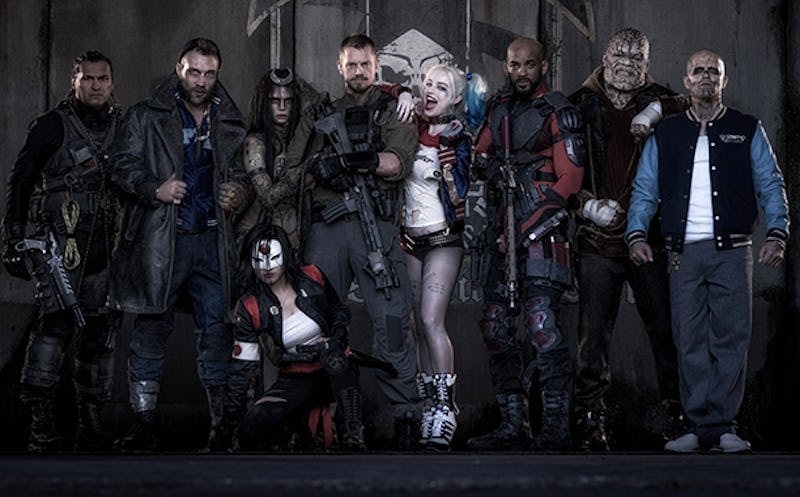 With its antihero-driven themes, Suicide Squad feels like a hella timely approach to the superhero movie: a group of institutionalized DC villains are coerced into a deadly mission by the "good guys." Part of the film takes place in Belle Reve, a fictional sanatorium and prison down in Louisiana where Amanda Waller serves as warden. Like the Arkham Asylum from other Batman stories, Suicide Squad 's Belle Reve is not a real place, but its use in the movie and the comics does tell us truths about the treatment of mental illness and its role in incarceration.
On its own, Suicide Squad complicates the seemingly black-and-white morals of classic comics and could enrich the ever-expanding DC film universe. To borrow from Reese's, "Hey, you got good on my bad guy!" Within a larger scope, crime and punishment at the fictional Belle Reve reflect the real relationship between mental illness and prisons in the U.S. Of course, with all of Batman's stories paralleling the film, Suicide Squad is certainly not the first DC story to use mental institutions as source of villainy, but it is the most recent blockbuster movie from the comics giant to do so. With that in mind, the fact that Belle Reve is an imaginary place doesn't mean it doesn't have immediate implications worth looking into.
As fans know, Belle Reve is essentially a big, ol' prison housing the "criminally insane." It sounds creepy, sure, but the facility's presence in the movie is rooted in truth, because of the stigma the incarcerated characters face for being housed in the prison. Most people are aware that mental illness comes with plenty of stigma, and in Suicide Squad, the characters are isolated because of their instability and are often given physical attributes that distinguish them from society. Their loud appearances are coded as visible markers of their illnesses, so that the audience can see why they'd be locked up in a institution like this, which contradicts mental illness' invisibility.
Mental illness has long been a part of comic lore. A few years back, The Huffington Post spoke with forensic psychiatrists about a handful of DC villains and, (unsurprisingly, found that their representations of insanity and mental illness were often way off. In the interview, Dr. H. Eric Bender, a mental health expert, dug into the Joker and his apparent psychosis, with the Huffington Post reporting:
Bender says psychopathy is a personality construct and not a diagnosis of a mental disorder. "Psychopathy reflects interpersonal characteristics and behavior that are often rooted in a lack of empathy," Bender said. "In the comics, television shows, and films, the Joker is much more akin to a psychopath and is not psychotic."
While I don't expect a movie about superpowers and people that wear capes to necessarily accurately depict the difference between personality disorders and mental illnesses, I hope that movies like Suicide Squad attempt to be as realistic as possible in that regard, especially when it comes to mental health facilities. Belle Reve has clear connections to real prisons; the Cook County Jail in Chicago, for instance, is the largest mental health care provider in the country. In 2014, The New York Times profiled the facility and wrote, "More than half of prisoners in the United States have a mental health problem, according to a 2006 Justice Department study. Among female inmates, almost three-quarters have a mental disorder." In the article, the sheriff called the system "abhorrent and senseless, as well as an astronomically expensive way to treat mental illness," but also noted that there were no other options. So while Belle Reve may not real, it is chained to several different disheartening truths, and that's important for fans to recognize.
Images: Warner Bros. Studios