Is Kylie Cosmetics' Poppin Lip Gloss Worth It?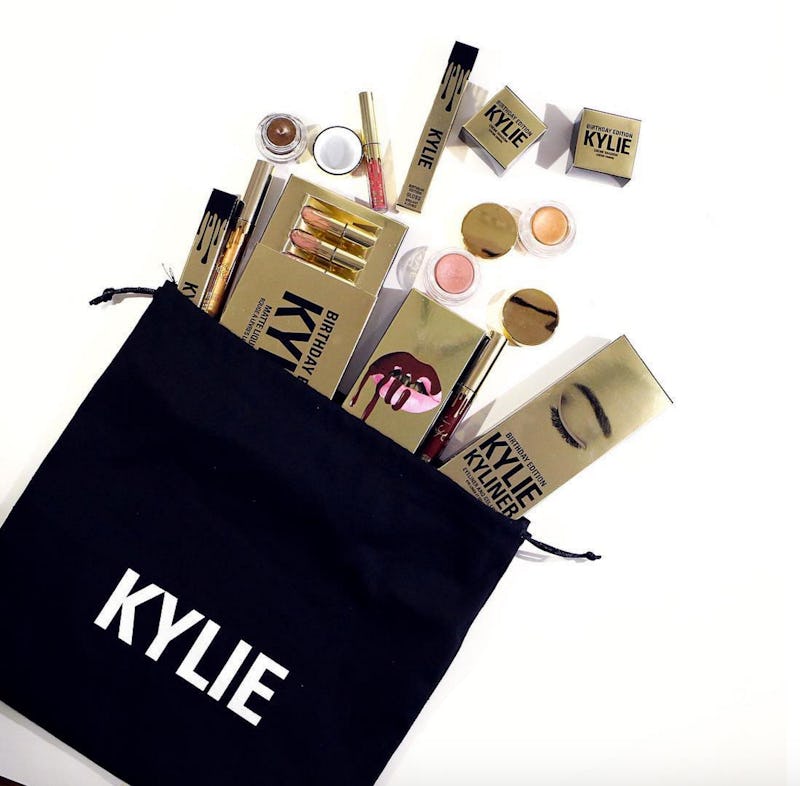 Hold onto your hats, because the Kylie's newest lip gloss is about to arrive. It's going to be quite the feeding frenzy to purchase the new shade, but will it live up to its considerable hype? Is Kylie Cosmetics' Poppin lip gloss worth it?
The gorgeous new shade comes as part of the recently-announced Kylie Cosmetics Birthday Collection, and it's just one of many fab new releases. After all, the collection continues Kylie's forays into "Kymakeup," with a gorgeous bronze pencil/gel Kyliner set, and two beautiful cream shadows joining the line-up, following the release (and subsequent, almost instantaneous depletion) of her first Kyshadow Palette.
So, is Kylie's newest lip gloss worth the $16 investment? Um, that's a no-holds-barred yes. The shade is absolutely gorgeous, and may just be one of Kylie's most original products yet, with its unusual shade and on-point shine. As Kylie explained on Snapchat, the entire Birthday Collection is made up of products infused with real gold, and Poppin might just exemplify that best of all, with its ultra-sparkly metallic finish. It's got a rose-gold sheen that works equally as well as a standalone color, and as an absolutely gorgeous (not to mention unexpected) top coat.
I imagine it would look especially nice layered over the new deep maroon Matte Liquid Lipstick in "Leo," another standout from the new collection.
Add all that to the fact that the collection is limited edition, and you've got something of a must-buy. After all, the collection is only available for a short window, from August 1, up until Kylie's birthday on August 10.
With only a week to stock up, there's not much time to hem and haw — so err on the side of caution, and treat yourself to a Poppin' lip gloss, because it lives up to its name in a serious way.
I mean, with its considerable mega-wattage , it is indeed poppin.
Images: kyliecosmetics/Instagram